In general, you can easily take screenshots in Windows by pressing the Print Scr button on your keyboard. However, you need to manually paste the screenshot into another app like Paint to save the image. If you take screenshots extensivly this process is not that great for productivity. For better features and annotating capabilities, some of us use Snagit as our primary screenshot tool. Snagit is one of the best tools to take perfect screenshots and short videos with just a few clicks. But it is not free and it costs you around $50 per license to get access to all its features and functionality. Add to that, you have to pay extra for free upgrades.
The thing is, there are several free, capable, and better applications to take screenshots. You don't have to burn your pocket for a screenshot tool with awesome features. In case you are wondering, here are some of the best Snagit alternative apps that are free and powerful.
Related: how to take screenshots in Windows
Best Free Snagit Alternative
Greenshot is one of the best and free screenshot tool for Windows. Unlike Snagit, Greenshot is very small in size, uses fewer system resources, and is very fast at taking screenshots. Along with the regular full-screen capture, Greenshot can take screenshots of selected windows, region, and auto capture last region (useful when you are taking multiple screenshots of the same window). The good thing about Greenshot is that it has its own editor to annotate images. With the editor, you can crop, blur selected parts, draw lines and arrows, add text, add objects, etc. Moreover, Greenshots also makes it easy to upload load your screenshots to sites like Imgur, Photobucket, Picasa, Flickr, Box, Dropbox, etc.
Most of all, Greenshot is available in portable version. In case you are wondering, when you download a portable version, you can use it without installing. Just download, extract, and open the app. However, to use Greenshot portable you need to have .NET framework 2.0 installed on your system. You can download the Greenshot portable from here. If you are looking for a free and portable yet powerful screenshot tool for Windows then Greenshot is for you.
Supported platforms: Windows and MacOS. You can download MacOS version directly from the App Store by paying $1.99.
Related: Top 7 Free File Sync Software to Sync Files between Folders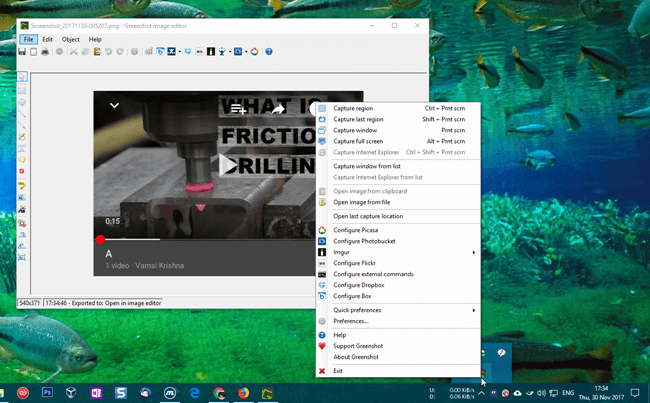 Some Windows users sware by ShareX to take screenshots, annotate, and save or upload them to your favorite image hosting sites. ShareX is a free, light-weight, open-source, and feature-rich application that can help you take quick screenshots in Windows. The good thing about ShareX is that it has a multitude of capture methods like fullscreen, active window, region, scrolling capture, webpage capture, etc. Of course, ShareX has its own editor to annotate images with just a few clicks. Just like Greenshot you can blur part of the capture, add text, crop images, draw lines and arrows, etc. Since ShareX prides itself on the ability to upload screenshots, it supports over 50 different destinations. Those destinations include but not limited to OneDrive, Google Drive, Dropbox, Box, FTP, Imgur, Google Photos, Photobucket, Flickr, Azure, Mega, MediaFire, Amazon S3, Gfycat, OwnCloud, etc.
Apart from a good editor and a multitude of upload destinations, you can configure ShareX to perform automatic after capture tasks like adding image effects, adding watermarks, saving the image to file, printing image, uploading the screenshot to selected host, save and copy file path, upload file and delete locally, etc. Of all the features, one of the best is the ability to record your screen and create GIFs from it as and when needed.
If you are using Windows 10, you can install ShareX directly from the Microsoft Store.
Supported platforms: Windows only.
Related: Top 5 Best Desktop Email Clients to Effectively Manage Your Email Accounts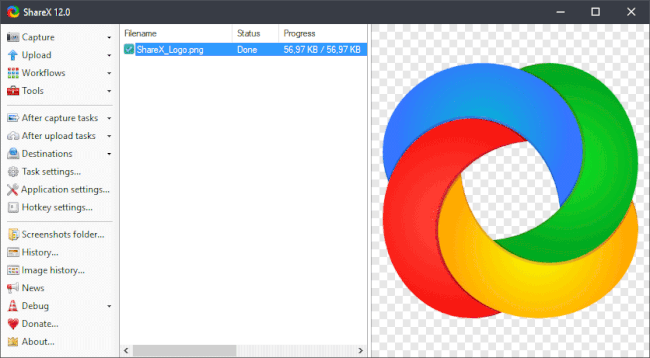 As the name implies, Lightshot is not only lightweight and small in file size, it is a free Snagit alternative. Unlike the other screenshot apps in this list, Lightshot allows you to annotate the screenshot using its onscreen annotation tools while you are taking it. No need to for manually opening an image editor and then annotating or editing the image. If you want to, you can configure Lightshot to automatically upload all your screenshots to prntscr.com. This feature is very useful to store and track screenshot history. Being a very simple app, using Lightshot is nothing hard. Just install the software and press the Print Src button your keyboard. Now, the select the area you want to take a screenshot, annotate the image if needed and click on the Save icon. That's it. It is that simple to use Lightshot.
Lightshot also has an added functionality to find similar images with just a few clicks. As good as the app is, Lightshot doesn't support active window capture like in Greenshot or ShareX. You have to manually select the screen area you want to capture by dragging your mouse. Other than that, if you are looking for a lightweight and free screenshot tool with basic annotation capabilities then Lightshot is for you.
Supported platforms: Windows and MacOS. By installing extensions, you can access Lightshot in Chrome, Firefox, Opera, and IE browsers.
Related: 10 Best Google Play Store Alternatives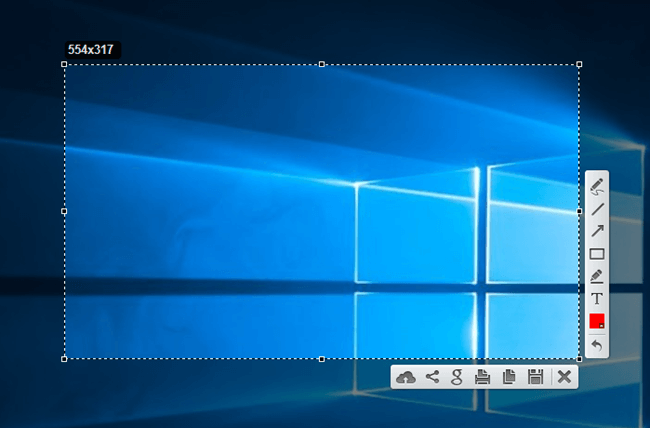 PicPick is yet another free yet feature filled screenshot tool for Windows. Of all the apps in the list, PicPick follows more conventional Windows style for its user interface. In fact, if you've ever used a Microsoft Office product with Ribbon interface, the PicPick user interface will be very similar. This makes it very easy to use it to take quick screenshots and edit or annotate them as and when needed. Just like ShareX, PicPick supports a wide range of screen capture modes like window capture, region capture, fixed region capture, free hand, scrolling window, fullscreen, etc. Once captured, you can use its powerful editor, which looks just like the good old paint app to annotate images. The editor supports almost all the basic functions you'd expect from a screen capturing software. Those functions include blur, crop, watermark, drawing, highlighting, inserting text, arrow, and lines, etc.
The similarities between ShareX and PicPick won't end there, you can even directly upload your screenshots to a host of sites. Additionally, PicPick has a neat feature called Whiteboard which allows you to create a virtual whiteboard for presentation and drawing purposes. To top it all of, PicPick is available in portable version. So, if you looking for screenshot software with Office like interface then PicPick is for you.
Pricing: PicPick is free for personal use only and may show occasional ads. If you are going to use it professionally then you need to pay $24.99 per license.
Supported platforms: Windows only.
Related: How to Create Windows 10 Recovery Drive
Lightscreen is mainly designed to quietly sit in the system tray and automatically save screenshots to a pre-configured folder when you press a hot-key. Much like "Win + Print Src" shortcut on Windows. However, Lightscreen is more customizable with multiple capture modes like fullscreen, active window, and region. For each capture mode, you can set a custom keyboard shortcut. When you press the keyboard shortcut, Lightscreen will take the screenshot and automatically save it to the folder of your choice. Additionally, you can automatically upload screenshots to Imgur and Pomf-clone.
Lightscreen also comes in portable variant if you don't want to install the software. As good as it is, it has no dedicated editor to annotate screenshots. You have to use apps like Paint, Photoshop, GIMP, etc., to annotate screenshots. Simply put, compared to the other software on this list Lightscreen is just not powerful enough if you regularly use the screenshot functionality. But, if you just a want a software that can take and automatically save screenshots to a pre-defined folder then Lightscreen does the job pretty good.
Supported platforms: Windows and Linux.
Related: How to Download Android Apps to PC without Installing Any Software [Quick Tip]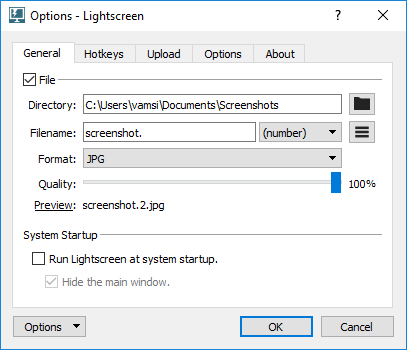 6.

Windows Snipping Tool

Windows Snipping tool is one of the lesser known features of Windows. If you only take screenshots occationally and don't mind the basic editing options then Windows Snipping tool does the job pretty good. Just search for "Snipping Tool" in the start menu and open it. Though the app looks simple, you can choose between four different modes called Free-form Snip, Rectangular Snip, Window Snip, and Fullscreen Snip. Just like with Snagit, you can delay the screenshot for up to five seconds. This feature is very useful for timed activities.

After taking the screenshot, it will be automatically opened in a basic editor where you can annotate the image as needed. However, the editor is in no way as powerful as the built-in editors of the above apps (excluding Lightscreen which has no built-in editor). But, it should suffice for quick annotation like drawing, erasing, highlighting, etc.

Platform Support: Being a built-in tool, it is Windows only.

Related: 9 Google Spreadsheets Tips to Make Things Easier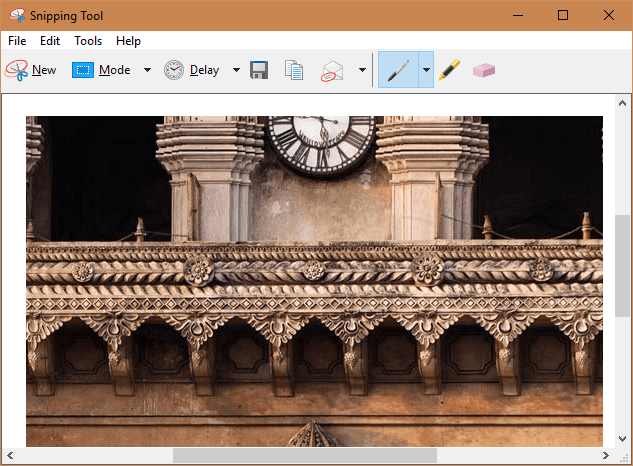 That's it for now. If you think I missed any of your favorite free Snagit alternatives to take screenshots in Windows then do comment below and share them with me.