For a vast majority of people, Google Play Store is where we download and install Android apps. Google Play Store has all the apps you'll ever need. However, Google Play Store is not the only place to download Android apps. There are some best Google Play Store alternatives where you can safely download Android apps. In fact, you can find Android apps in Google Play Store alternatives that you cannot file in the official Play Store. In case you are wondering, here are some of the best alternatives to Google Play Store.
Why Do You Need Play Store Alternative?
There are several reasons why you might want to use Google Play Store alternatives. Here are some of those reasons.
You cannot find the app you need because the Play Store won't allow it. Adblock apps are a good example.
You are banned from Play Store, thus in need for Google Play Store alternative.
To discover new apps and games that you might like.
You don't want to use yet another Google app.
Your Android device doesn't have Google Apps pre-installed.
You want to support open-source Play Store alternatives like F-Droid.
To get huge discounts on paid apps.
To download paid apps for free given away by Play Store alternative like Amazon app store.
Enable Unknown Sources
Before you can start using the Play Store alternative, you need to set up your Android device properly. i.e, you need to enable third-party app installation.
To do that, open the Settings app and select "Security." Now, scroll down and toggle the button next to "Unknown Sources" under Device Administration and you are good to go. From now on, you can install apps from third-parties without any difficulty.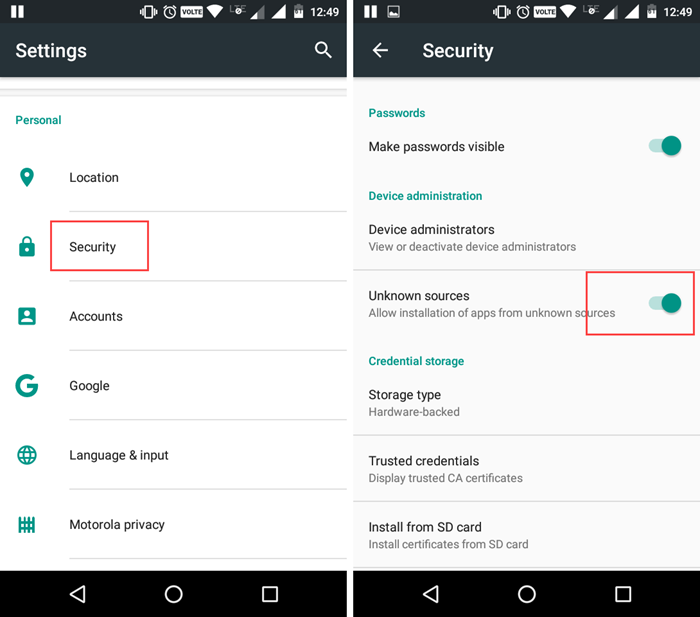 1.

Amazon Appstore (gives away free paid app every day)

Amazon Appstore is one of my favorite Google Play store alternatives. Amazon launched its app store along with the Kindle tablet edition, which is the main app store for those devices. Amazon app store has a lot smaller app and game selection compared to Play Store, but the good thing is that each and every app is checked to be on par with Amazon's quality control. Along with the quality, Amazon Appstore lets you test drive an app to know its functionality within your browser before spending your hard earned money on a paid app.

To make things a bit more interesting, Amazon Appstore has a feature called "Free paid app of the day" where it gives you one paid app for free per day. Amazon app store is available in over 200 countries including India, US, Canada & UK. So, do download and try Amazon Appstore. You won't be disappointed.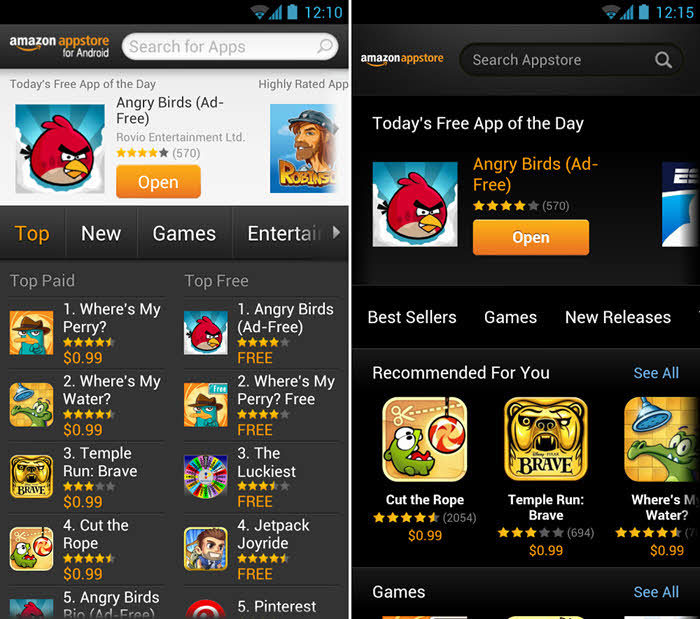 2.

F-Droid (Open Source)

F-Droid is a unique Google Play Store alternative with the primary focus of free and open-source apps. In fact, F-Droid is funded by donations. There are a lot of people who support free and open-source apps. So, if you are one of those then F-Droid is for you. Since every app in the F-Droid is open-source, you can download and access the code in the app. Moreover, all the apps in F-Droid come with no tracking, no malware, and no advertising.

However, the selection of apps is pretty limited due to the strict policies and no profit for developers. That being said, if you are an app developer then F-Droid is highly recommended as you can see how an app works and get access to the code underneath.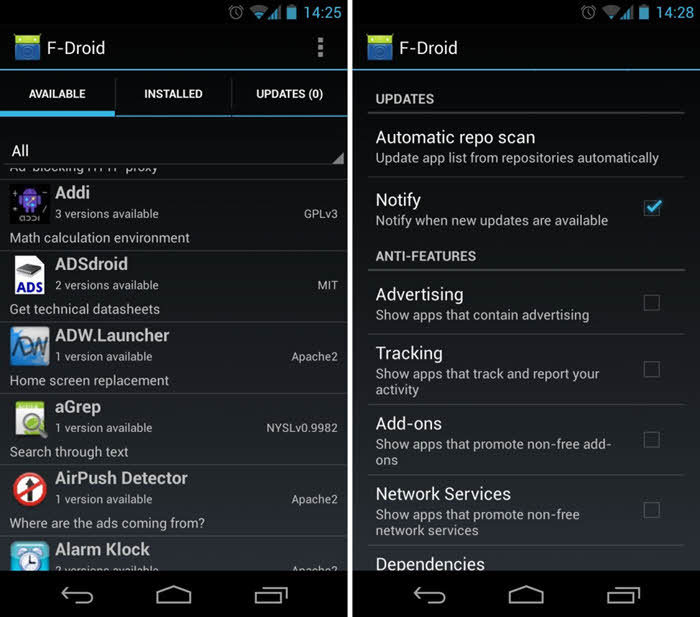 3.

Aptoide

Just like the Amazon Appstore, Aptoide also gives paid apps for free. All you have to do is search for them. That being said, the workings of Aptoide is different from other Google Play Store alternatives. For instance, Aptoide lets users create their own repositories and upload apps. Since users can upload their own apps, you find paid apps for free in Aptoide much more frequently when compared to other Play Store alternatives.

As you can tell, this raises the question of security from malware in apps. To deal with this, Aptoide has three different systems in place to detect malware as they are uploaded to Aptoide. Moreover, Aptoide has a "Trusted Stamp". If you see the Trusted stamp next to an app, it is most certainly malware free and safe to the end-user. So, if you are looking to install a paid app for free, then do try Aptoide. More often than not, Aptoide has what you need, thanks to its huge community and community driven apps.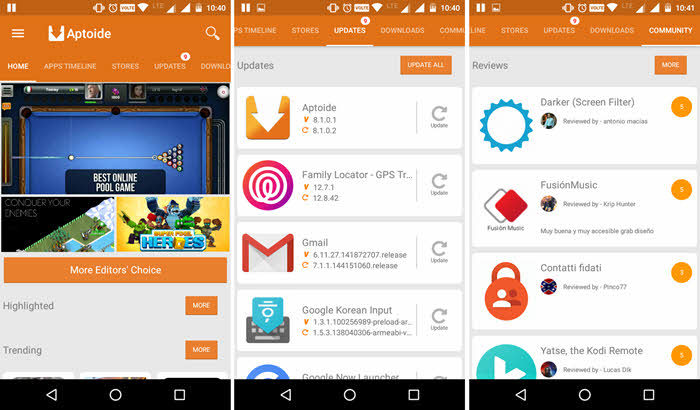 4.

AppBrain

AppBrain is quite amazing and interesting because of its search functionality. The search feature in AppBrain lets you search using your geolocation, device type, interests, etc. The good thing about AppBrain is that it gives you full control over what the app is doing. For instance, you need to explicitly give AppBrain permission to track and update the apps when there is an update available. This specific feature lets you use the older version of an app without the annoying update notifications from the app store.

Along with at, AppBrain lets you install android apps directly from your PC's web browser, just like the Google Play Store. Moreover, from time to time, AppBrain makes some paid apps free to download. When it comes to the user interface, it is quite familiar and doesn't take any time to get used to. So, if you are looking for more control over the app store behavior and some free paid apps from time to time then do give AppBrain a try.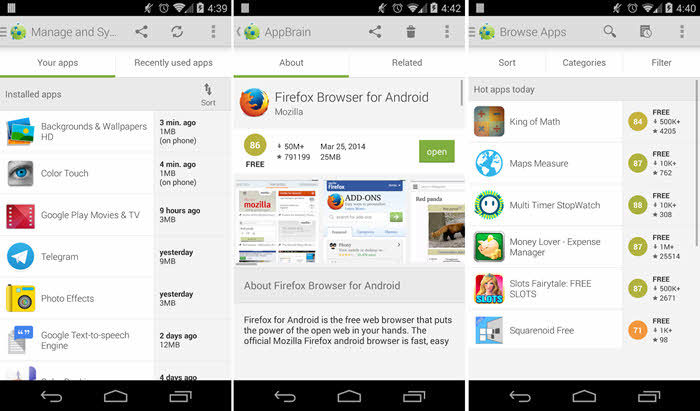 5.

GetJar

GetJar doesn't need any introduction as it is one of the oldest app providers for different platforms like Symbian along with Android. GetJar divides apps into categories and sub-categories which are quite comfortable for searching a particular niche app. Each and every app here has like, dislike and comments feature by which you can check out the worthiness of the app. The good thing about GetJar is that it gives you the premium apps for free. However, those free paid apps have in-app advertising by which Getjar generates the lost revenue.

That being said, GetJar still relies on older Android APIs and the user interface looks a bit dated on newer Android versions. Downloading and installing an app using Getjar is pretty easy, just like with Google Play Store.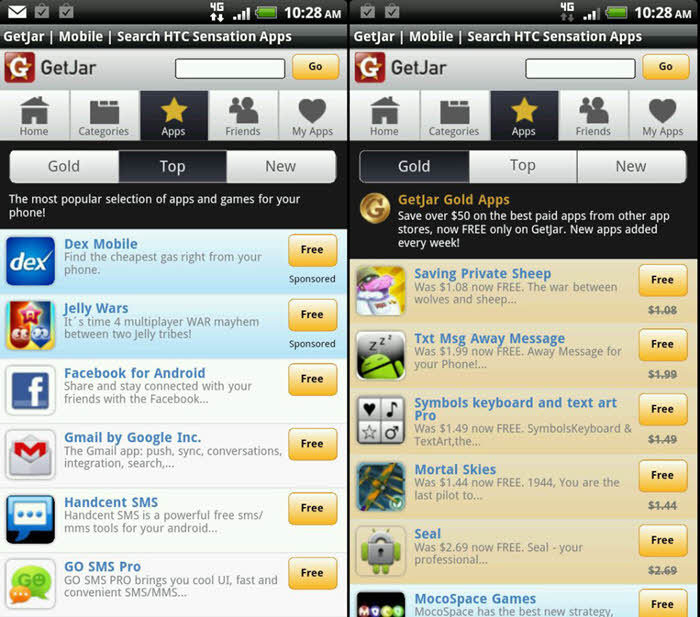 6.

SlideMe

SlideMe is one of the most trusted app stores when it comes to Play Store alternatives. In fact, SlideMe is frequently shipped with devices that don't use Google Play Store or Google Apps. SlideMe Appstore assures you with high-quality apps by manually testing each and every app with its quality team. All the apps in SlideMe app store are neatly categorized according to user ratings, app type, devices, location, etc. To make things easier, SlideMe provides you with interest-based app results by default rather than the device based results. The good thing about SlideMe is the apps are available globally, no geo-restrictions. Moreover, the app store also supports a wide range of currencies and payment gateways including but not limited to PayPal.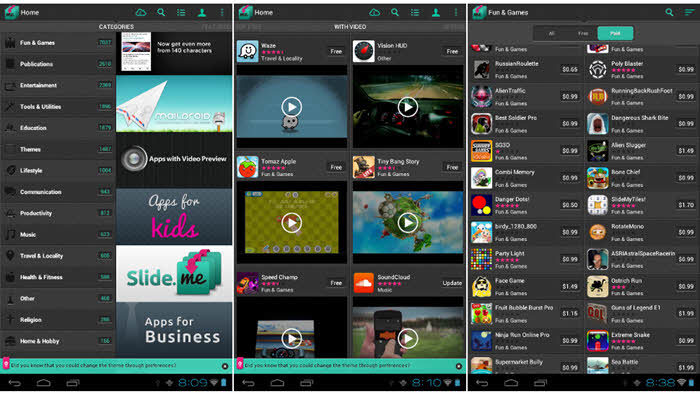 7.

Opera Mobile Store

Opera Mobile Store is not that popular but offers apps to a variety of platforms like Android, Blackberry, iOS, Windows Phones, Symbian, etc. Though it looks simple, Opera Mobile Store has a wide selection of apps and games. However, compared to the other play store alternatives, Opera Mobile Store is not that feature rich and configurable. That being said if all you want to is download and install an app then simply visit Opera Mobile Store from your favorite browser app and you are good to go. This eliminates the need to install an App Store app to manage your installed applications.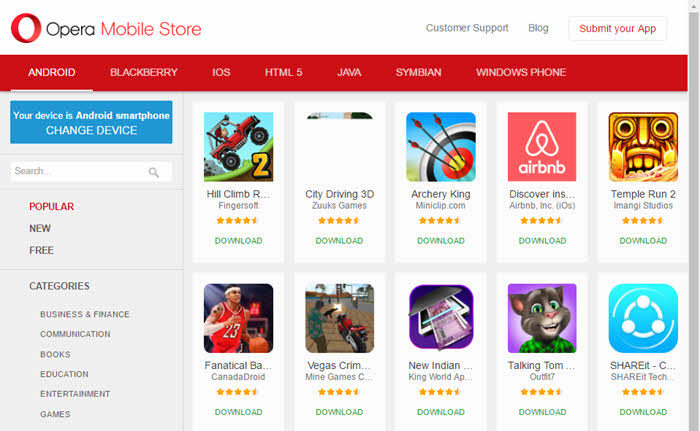 8.

1Mobile Market

1Mobile Market is one of the popular Play Store alternatives that offers quality and safe app downloads. As of writing this, 1Mobile Market has over one million apps and games. The good thing about 1Mobile is that all the apps in the market undergo strict security inspection to detect any virus or malware embedded in the app. 1Mobile gives you high app download speeds and better download resuming in case of download interruptions. Moreover, 1Mobile lets you better manage your installed apps even when you are offline with thoughtful app update caution.
9.

Mobogenie

Mobogenie claims itself to be the ultimate Android app store with a wide variety of apps and games. The good thing about Mobogenie is you can find apps that are not available in Play Store without any registration whatsoever. Some of the those banned Play Store apps include but not limited to Vidmate, YouTube downloader, etc. Along with a great search function, the app store is divided into Featured, Categories, Top, and Collections which make it very easy to find the apps you need. Mobogenie also has a file manager to better organize wallpapers, documents, wallpapers, etc. Using the PC client, you can manage your device directly from your PC.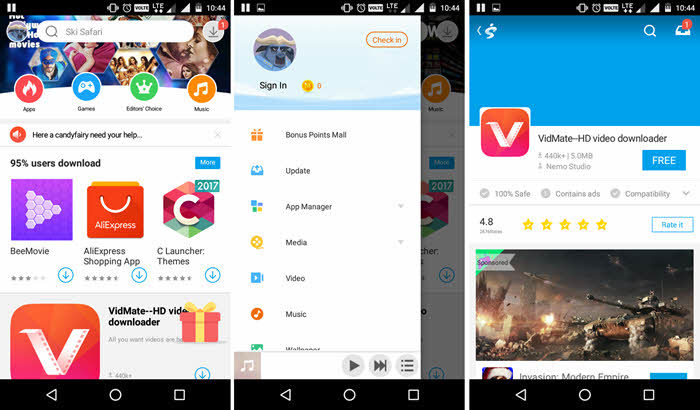 10.

APKMirror

Of all the Google Play Store alternatives shared here, APKMirror is not so much an app that manages your installed apps. APKMirror is a web-based service and you can access it from any browser app on your Android device. The user interface is pretty neat and finding an app is pretty easy. As you can tell from the name itself, you can download the .apk file from APKMirror. The good thing about APKMirror is that it lets you download the older versions of an app.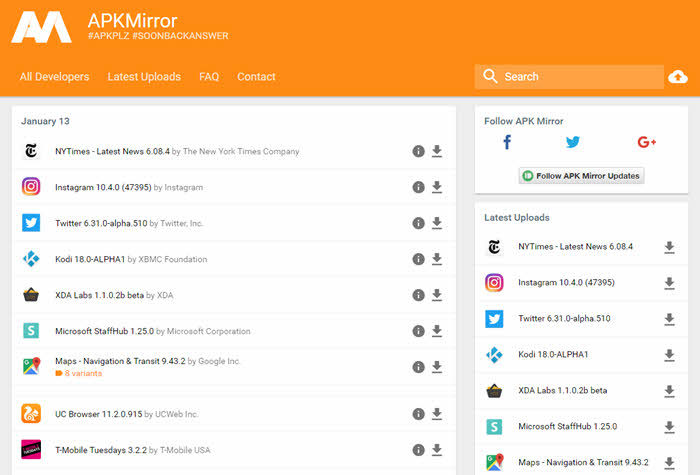 Conclusion
All the alternatives to Play Store shared in this article has their own pros and cons. Not to mention, they provide some awesome features and access to some interesting apps that are not available in the Google Play Store. That being said, there are many other Google Play Store alternatives that are yet to be experienced. However, one should always be careful when using alternative play store apps.
Hope that helps. Do comment below to share your thoughts and experiences about above discussed Play Store alternatives or to share your favorite Android app store.