Emails are born before the internet and they are still the primary means of communication when it comes to important things on the internet. Due to the importance attributed to emails, most of us use multiple email accounts with multiple services like Gmail, Yahoo, Outlook, GMX, etc. For instance, you can use different emails account for different purposes like banking or financial emails, personal emails, work-related emails, subscriptions, casual or not-so-important emails, etc. While having different email accounts for different purposes is a better way to categorize and maintain incoming messages, it has its downsides. Some of the downsides include but not limited to, remembering a ton of passwords, checking multiple email accounts individually, clearing inbox clutter in multiple email accounts, etc.
This is just time-consuming and who wants to go through all the hassle each and every day? Especially when you have a better way to manage and maintain all your email accounts right from your PC using desktop email clients. So without further ado, let us get to know some of the best desktop email clients that actually work.
Best Desktop Email Clients
There is no other email client that can beat Thunderbird when it comes to features, aesthetics, and security. In fact Thunderbird more features than most of the other premium and free desktop email clients. One of the lovable things about Thunderbird is that it is open-source and has some interesting features like intelligent spam filters, built-in RSS reader, news feed, quick search, HTML email formatting, etc. If you want to, you can get Thunderbird in portable format via PortableApps. This is very useful if you want to install Thunderbird on a USB stick and carry it with you so that you can get access to all your emails no matter what PC you are using. Simply put, Thunderbird is the best email client you could get for free, nothing beats it.
Using Thunderbird? Must Read: How to backup Thunderbird on Windows 10.
Pros of Thunderbird (Features)
Easy email accounts setup wizard.
Tabbed interface.
Attachment reminder that reminds you to attach a file in case you forgot.
Customize email experience with lots of add-ons and extensions.
Quick search and search tools with advanced features.
Air-tight security and built-in phishing protection.
Activity Manager that records all the interactions between Thunderbird and your email provider.
Multiple-channel chat support for Facebook, Twitter, XMPP, IRC, etc.
Ability to share large files using thunderbird file link.
Smart folders.
Add-ons manager.
Cons of Thunderbird
Though the user interface is pretty functional, it looks a bit dated.
Thunderbird still relays on Mozilla's older Gecko engine.
Platform support: Thunderbird support Windows, MacOS, and Linux.
Pricing: Thunderbird is completely free.
Related: Top 7 Free File Sync Software to Sync Files between Folders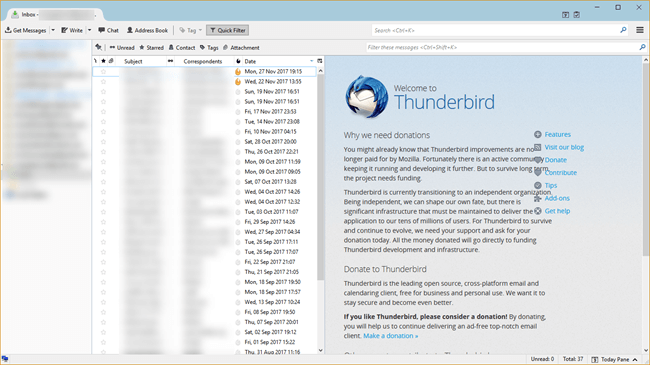 PostBox is just a simple and beautiful premium email client with awesome features and security. PostBox is actually ported from Thunderbird and it more or less looks like Thunderbird. But PostBox has more features and the user interface is engaging. Some of the best features of PostBox includes Dropbox support, better Gmail integration, management of attachments, improved social connections, automatic tagging, summarized replies, etc. If you don't mind spending a few bucks than PostBox will be a perfect choice as your desktop email client for your daily usage.
Pros of PostBox (Features)
Better integration with Gmail.
Support for threaded conversations.
Innovative and no-nonsense user interface.
Supports document and image views.
A quick search and quick reply options to increase productivity.
Better integration with social networks and cloud storage services like Dropbox, Google Drive, OneDrive, Box, etc.
Support for placeholders in response templates.
70+ professionally written email response templates.
Support proper image scaling and message size indicator.
Support for Emojis and add-ons.
Global and real-time filtering.
Support for tagging and cloud file sharing.
Cons of PostBox
No support for the left to right languages.
No free version.
Platform support: PostBox supports both Windows and MacOS. Unfortunately, there is no Linux version.
Pricing: You can get PostBox with a one-time purchase of $28. There is a free trial to test drive the application.
Related: Top 6 Free Snagit Alternatives to Take Screenshots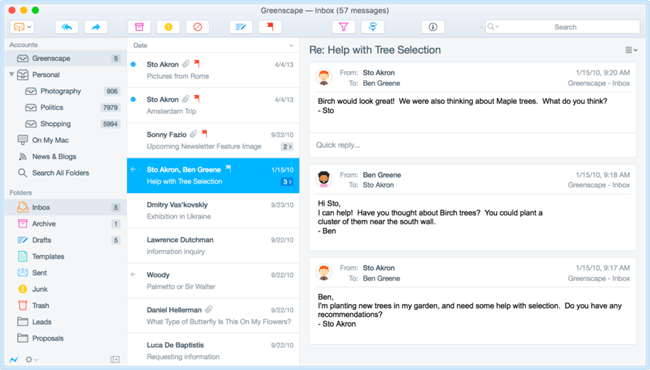 Newton Mail is one of the best, cross-platform, and pricy email client on this list. The good thing about Newton Mail is that it is very good looking and has a carefully thought-out user interface that makes it very satisfying to use. Not to mention, Newton has some of the best-advanced features compared to other email clients. Newton Mail better integrates with your email service provider and supercharges how you use the email client for your daily communications. So, if you are looking for an eye-candy and professional looking email client and don't mind paying yearly subscription fee the Newton Mail is for you.
Pros of Newton Mail (Features)
Simple, beautiful, and elegant user interface.
Built-in support for read-receipts so that you can know whether your email is opened or not. This feature is supported on both desktop PC and mobile.
Ability to schedule and send emails at a later time.
Tidy inbox feature that weed out not-so-important emails like newsletters.
Ability to snooze emails so that you can deal with the email as and when needed.
Ability to get useful insights about the sender.
Newton Mail supports many connected apps like Evernote, OneNote, Pocket, Trello, Salesforce, Asana, Todoist, etc.
Ability to unsend emails that you sent accidentally or emails that have typos, missing attachments, and other errors.
Newton Mail is available in Microsoft Store for Windows 10 users.
Cons of Newton Mail
Since Newton Mail heavily emphasis on its clean user interface, many of the advanced features are tucked deep in menus.
Unlike PostBox desktop email client, there are no dedicated email templates.
You need to pay yearly subscription fee to keep using Newton email client.
Platform support: Newton Mail supports Windows, MacOS, Android, and iOS. Newton Mail also supports Android Wear and Apple Watch.
Pricing: Newton Mail costs you $49.99 per year. The subscription gives you access to Newton Mail on all supported device platforms.
Related: How to Automatically Delete Previous Windows Installation Files in Windows 10 [Windows.old Folder]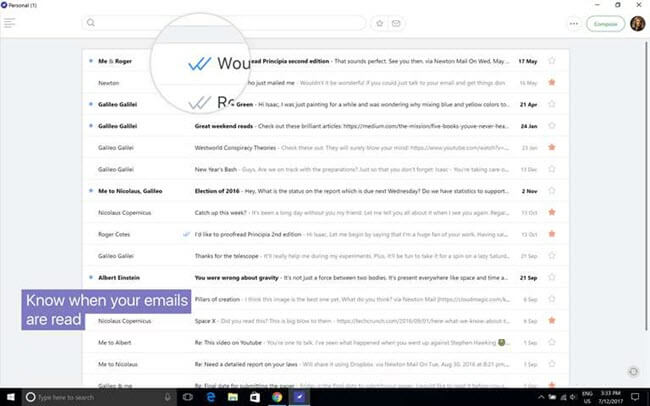 eM Client packs quite a punch with its powerful features and eye-candy design. eM Client easily integrates with all your email accounts and getting started with this desktop email client is quite easy. Some notable features include HTML formatting, remote mail viewer, mailbox encryption, advanced email management, mass email, delayed send, custom templates, quick text, support for tags, custom contact views, easy search, communication support, file transport support, etc.
Pros of eM Client (Features)
Ability to import emails from Outlook, Outlook Express, Thunderbird, Windows Live Mail, etc.
Fully optimized touch support.
Quick search to find your emails.
PGP encryption support.
Built-in calendar, chat, and contacts support.
Duplicator tool.
Customizable widgets.
Ability to schedule messages.
Conversation view.
Email Encryption.
Advanced email rules management.
Cons of eM Client
eM Client is not cross-platform.
The free version limits you to only use two email accounts.
Supported platforms: Windows only.
Pricing: eM Client is free personal use but limits you to only two accounts. To remove the limit, you can purchase the pro version for a one-time fee of $49.95.
Related: Best Play Store Alternatives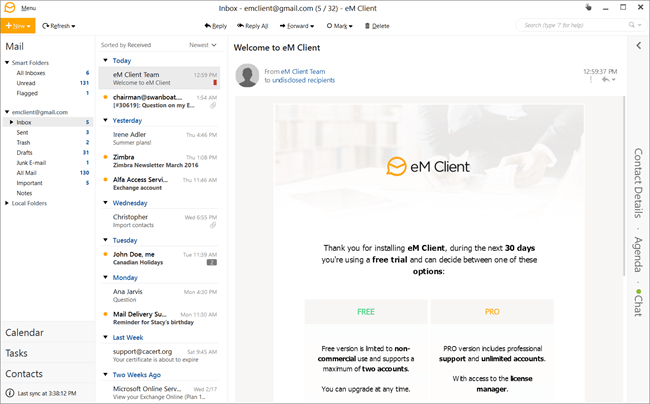 Mailbird is a no-nonsense and simple yet powerful desktop email client with a clean user interface. The most interesting thing about Mailbird is that it has all the power features (just like in outlook and Thunderbird) that you'll ever need out of the box. Simply put, Mailbird offers a fast and solid email experience without you messing with any settings.
Pros of Mailbird (Features)
Easily integrates with all the existing email providers including Google Apps.
Clean and uncluttered user interface.
Integrated messaging apps like WhatsApp.
Integrated task management apps like Todoist.
Unified email box to interact with all your emails in one place.
Built-in calendar support.
A wide range of customization options.
Veetrooms feature for business meetings.
Attachment previews.
Cons of Mailbird
The free version is limited to 3 accounts and lacks advanced features like the unified inbox.
Platform support: Windows only.
Pricing: You can get Mailbird for free but it is limited in terms of features and how many emails accounts you can add (currently limited to 3 email accounts). The pro version costs you $1.5 per month or $59 for the lifetime subscription.
Related: How to Save Emails as PDF in Windows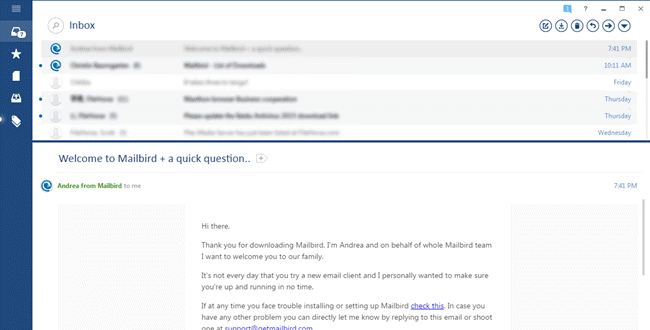 Related: Best Notepad Tricks for Windows
Conclusion
Desktop email clients are a better way to manage your email accounts and conversation as they provide a unified user interface right in your PC without any extra clutter or advanced settings. So, if you have multiple email accounts then do consider using some sort of desktop email client as it increases your productivity by reducing the time you spend on managing all your email accounts individually.
So, which desktop email client are you using? Have I missed your favorite desktop email client? Do share your thoughts and experiences using the comments form below.