With Windows 10, Microsoft is doing a lot of things like aggressively pushing the new operating system to all the Windows 7 and 8.1 users, making all the updates including the driver updates mandatory, etc. Among all the new features, app suggestions (start menu advertisements) in the start menu are one of the controversial features as some critics call it as Ads in the start menu. Microsoft clarifies this feature as App Suggestions which displays both free and paid apps and they don't get paid in any way by the app developers to promote the apps.
No matter what you want to call it, the start menu advertisements are enabled by default. If you don't like this feature or if you think it is intrusive then here is how to disable start menu advertisements in Windows 10.
Disable Start Menu Advertisements in Windows 10
To disable app suggestions or advertisements in the Windows 10 start menu, you need to modify the personalization settings.
Step 1: To do that, click on the Notifications icon in the taskbar and select the option "All Settings".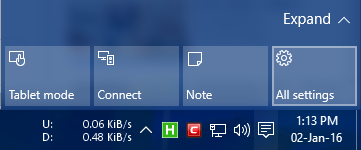 Step 2: The above action will open the All Settings window on your Windows machine. You can also open this window using the Windows 10 keyboard shortcut "Win + I". In the settings panel, find and select the Personalization option.

Step 3: Once the personalization panel has been opened, navigate to the "Start" category appearing on the left pane.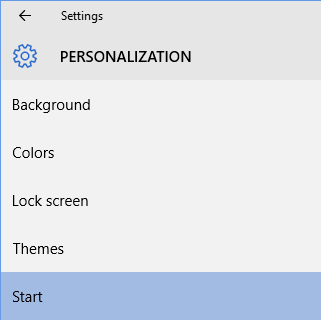 Step 4: This action will bring forward the options related to the Start Menu. On the right pane, find the option "Occasionally show suggestions in start" and toggle it from On to Off.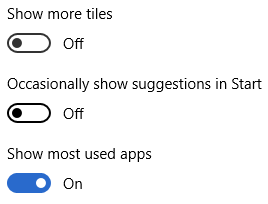 Step 5: That's all there is to do. From this point forward, the Start menu won't show you any app suggestions.
Alternate Method to Disable Advertisements in Windows 10 Start Menu
Alternatively, you can also turn off the start menu app suggestions directly from the start menu. Just right-clicking on the app suggestion and select the option "Turn off all suggestions."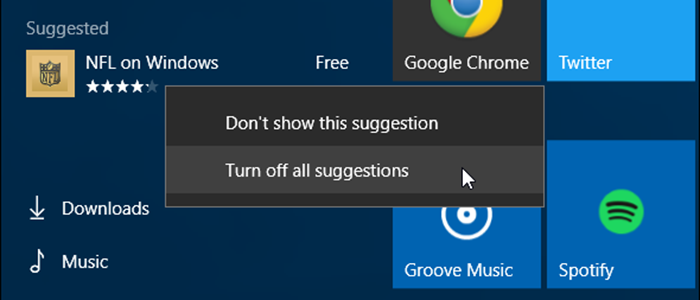 The good thing about this approach is it will give you the ability to reject the current suggestion. All you have to do is select the option "Don't show this suggestion".
As you can see, it is very easy to disable app suggestions or advertisements in the Windows 10 Start menu.
Do comment below sharing your thoughts and experiences about using the above methods to disable start menu advertisements in Windows 10.