VPN's are becoming increasingly popular as more and more people are trying to protect or hide their web traffic data from prying eyes and other disasters. As a matter of fact, If used correctly, VPN's can do lots of amazing things like lifting up regional restrictions, encrypting your ongoing web traffic, masking your presence on the internet, etc.
VyprVPN is one of the best VPN's out there with not only stunning features, but which can give you unlimited speeds for your daily downloading and uploading requirements. So without further ado, let us dig into VyprVPN and see why it is one of the best VPN when compared to VPN services out there.
VyprVPN Review – Why Use VyprVPN
To start with, the three main reasons for using a VPN service is to encrypt/protect ongoing web traffic, to access restricted websites and to mask your online presence on the internet. This is where VyprVPN gets into action and can handle all the three things perfectly without any hiccups. Unlike other VPNs, VyprVPN doesn't need any technical knowledge to get started and won't bulk your system with heavy UIs and loading stuff but makes your VPN experience smoother and smarter. Apart from protecting your presence while using the internet in your PC, VyprVPN got you covered even when you are using smartphones like Android or iOS.
Installation and Usage
Guys at VyprVPN provided us an account to test and evaluate their services, so I've logged into my account and downloaded the VyprVPN desktop client. After downloading, I have installed the client like any other Windows software. After the installation, I've launched the program thinking that I have to configure something to get started. But to my surprise, There is no need for any special configurations and if you don't mind using the default server location then clicking the connect button does the magic.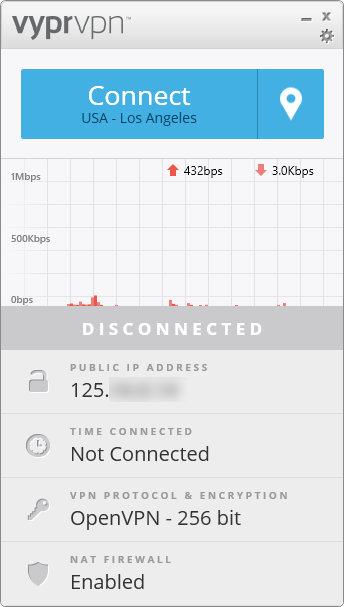 However, If you want to choose or change the location of the VPN server, just click on that little location icon placed next to the connect button and select 'Show Servers' option. This will open up the "Server Location" window where you can select your desired server from 40+ locations. Obviously, I had selected USA server and clicked on the connect button so that I can access HULU. For those of you who don't know, HULU is a regionally restricted video streaming website and only United States citizens can access it.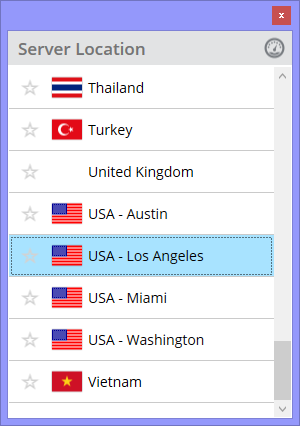 Now the question comes in, to watch any streaming video you need to have a decent speed. To test the download and upload speeds, I've used speedtest.net. To my surprise, the downloading and uploading speeds are pretty good (Mind you, I am on a 2Mbps connection at the time of the test). The good thing is that the downloading speed is not only consistent, but VyprVPN delivered what it promised. I've seen many VPN's that fail to deliver even 20% of the local internet connection speed.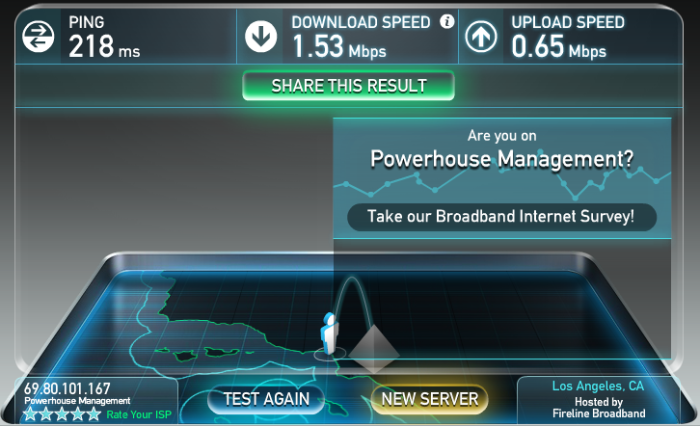 When it comes to security, VyprVPN tightly encrypts your internet connection with OpenVPN – 256-bit encryption and also uses NAT firewall which provides an extra layer of security. If you are an advanced user and want to check out things then you can access VyprVPN's options panel by clicking on that little gear icon and select options from the list.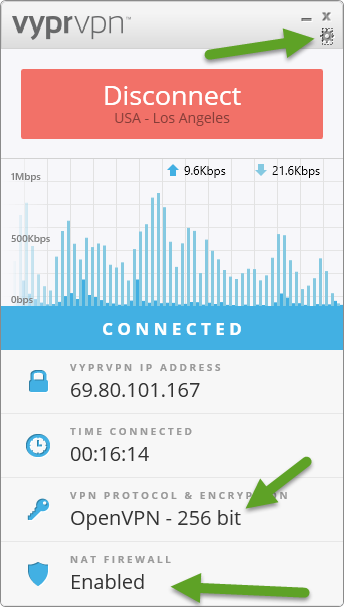 VyprVPN's options panel is pretty simple and you can easily understand everything around, but the one feature that caught my eye is the Protocol tab. Here you can choose what protocol you want to use if you know what you are doing. I mean if some website is blocking your VPN then you can simply unblock it by using VyprVPN's proprietary protocol 'Chameleon'.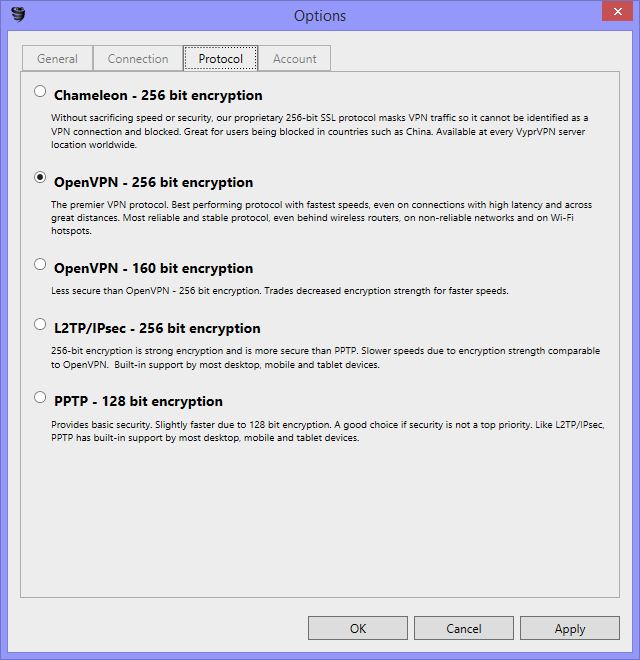 Last but not least, VyprVPN's customer service is pretty good, I mean, I've contacted their support team using live chat and they responded to my each and every query without any long delays. All in all, VyprVPN has some pretty interesting features and let's see some of the best VPN features that VyprVPN offers.
Features
Unlimited Bandwidth.
Unlimited Traffic.
Unrestricted download and upload speeds.
Dump Truck cloud storage space.
Easy-to-use and no-nonsense user interface.
VyprVPN writes their own code and maintains their own servers to serve you best.
VyprVPN makes it easy to use their service with special applications for Windows, Mac, Android & iOS.
Worldwide network with 700+servers and 200,000+ IP address.
VyprVPN supports multiple protocols like OpenVPN, L2TP, PPTP and Chameleon.
VyprVPN uses Chameleon to defeat VPN blocking.
Provides extra layer of security using NAT (Network Address Translation) firewall.
Best in class third-party app integration.
24×7 customer services via email & live chat.
To know more about the features offered by VyprVPN, Click here.
Pros
Support for multiple devices types.
unrestricted speeds and Unlimited bandwidth.
Uses its own servers to serve its VPN service.
Faster & reliable customer service.
Dump Truck cloud storage space.
Own worldwide network with 700+servers and 200,000+ IP address.
Unlike other VPN's, VyprVPN writes their own code and maintains their own servers i.e no third-parties included.
No hidden fees or forced 3rd party softwares installations (like ask toolbar).
Free online resources to help you work with VyprVPN.
Free trial period to assess the working of VyprVPN.
Best in class protection with tight encryption & NAT.
Unblocks restricted websites.
Cons
The one and only con I get is that – Even though VyprVPN supports Linux environment, setting it up may require some technical knowledge. Instructions can be found here.
Conclusion
VyprVPN is a full-fledged VPN service with some pretty interesting features, security and speed to offer. There are lots of other free and premium VPN services that promise to do too much, but VyprVPN is one of the few service's which deliver what it promises. So, if you haven't tried VyprVPN then do give it a try as they offer a free trial and you won't be disappointed with their service. Hope our VyprVPN review helps you choose a better VPN service.
Note: This is a sponsored article. What it means is that we are paid to review this product but the opinions in this article about the product are not affected in any way.