Have you ever wanted secret texting apps for Android? There are several instant texting apps like WhatsApp and Facebook Messenger to quickly communicate with your loved ones, friends, and colleagues. Generally, these conversations are not that secret. However, there certainly will be times when you might want others not to look into what you are talking via text messages. In those situations, general apps like WhatsApp cannot protect your privacy. In fact, anyone who has access to your smartphone can read the conversation without much resistance. To deal with that, here are some of the best secret texting apps for Android to keep your intimate communication private from prying eyes.
Secret Texting Apps for Android
1. Calculator
Don't be fooled by the app name. The developer named the app as Calculator because when you open it, it looks just like a calculator. To get behind the fake interface, you have to enter the correct password. The good thing about the app is that you can configure it to hide or protect your text messages, multimedia messages (MMS), contact numbers, and even phone calls. Moreover, you even get access to different calculator skins to customize the look and feel of the app.
2. Message Locker – SMS Lock
As you can tell from the name itself, Message Locker lets you lock down all the texting and messaging apps using the PIN or Pattern lock. The good thing about the app is that detects all the popular messaging and texting apps like WhatsApp, Facebook Messanger, Snapchat, Telegram, Skype, Viber, Hangouts, etc. Other features of the app include but not limited to fast unlock, one lock to all messaging apps, etc.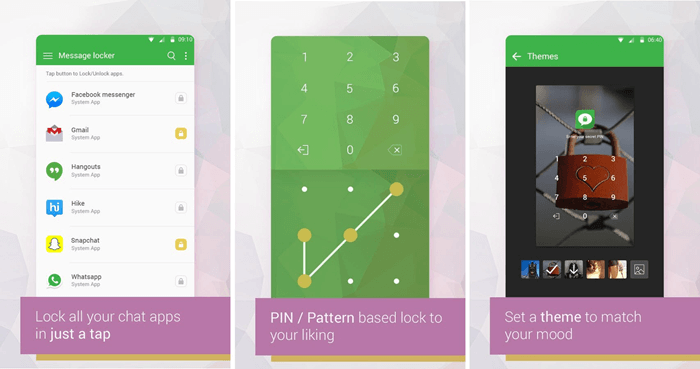 3. Telegram
Telegram is one of the most popular private and secure texting app for Android. Unlike the above two apps, Telegram is a pure instant messaging app designed with privacy and protection in mind. When using Telegram all your text messages and media files are encrypted using a combination of 256-bit symmetric AES encryption, 2048-bit RSA encryption, and Diffie–Hellman secure key exchange. Even with all the encryption and protection, you can chat seamlessly, create groups while still being simple to use. If you are looking for a completely private, secure, and secret texting app, Telegram is for you.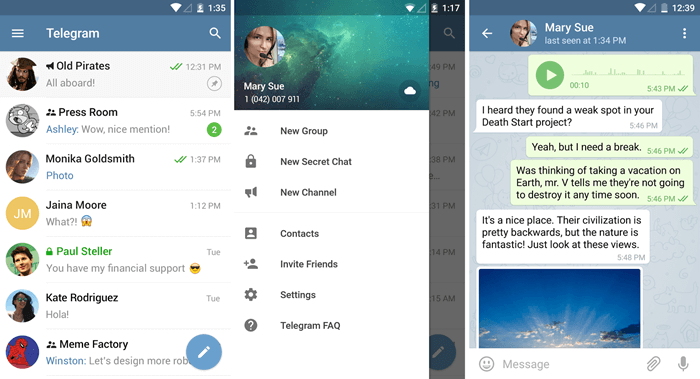 4. CoverMe Private Text Messaging
CoverMe private text messaging is much more than a private texting app for Android. Using CoverMe, you can encrypt phone calls and text messages, send self-destruct messages, remotely wipe or recall sent messages, hide messages, phone numbers, and call logs, and create private vault to securely store documents, media, notes, and diary.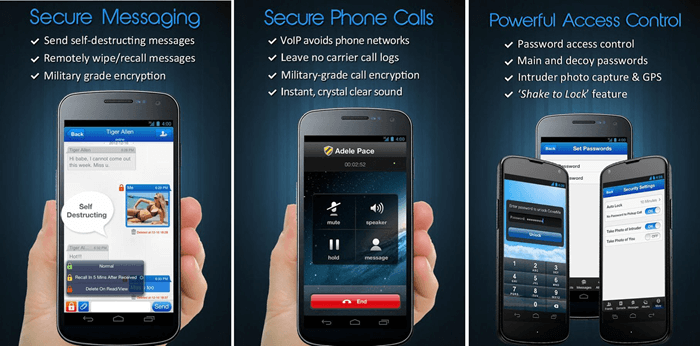 5. Signal Private Messenger
Just like Telegram, Signal Private Messenger uses end-to-end encryption. The Signal app is an open source project and uses peer-reviewed cryptographic protocols to keep your messages safe. Moreover, Signal uses your existing phone number and is specifically designed to work faster even in constrained environments. If you want to, you can also create group chats. Since Signal uses end-to-end encryption, no one includes the Singal developer can access your data without your permission.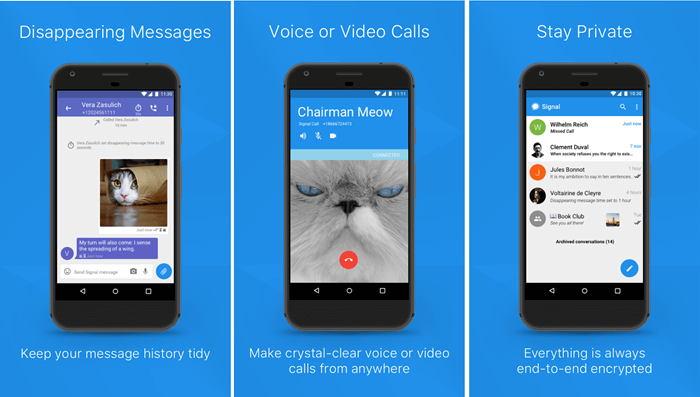 6. Privatext
As you can tell from app name, Privatext lets you send texts and pictures securely between your contacts. Privatext work just like any other text messaging application. However, all your messages are encrypted and you control the messages you send. For instance, you can always delete a message whenever you want, even when they are unread by the recipient. If you want to, Privatext even lets you automatically delete the message within 30 seconds and 24 hours time frame.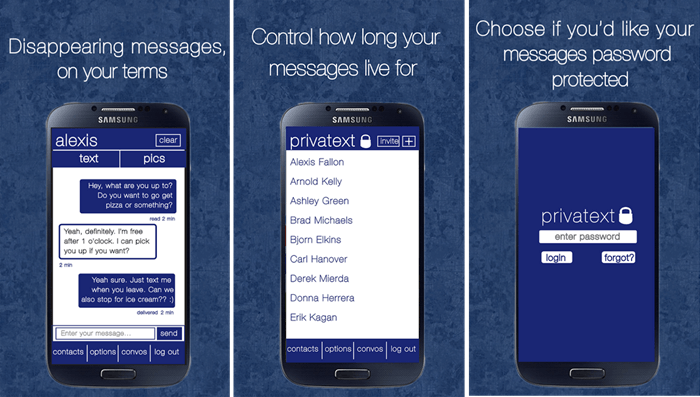 7. Couchgram
Couchgram is not necessarily a secret texting app but, it is pretty helpful if you simply want to simply lock download your default texting app or to manage your call logs. Some of the features of the app include but not limited to app lock, hide or rename caller ID, incoming call lock, auto delete call logs, take pictures of intruders who are snooping on your phone, etc.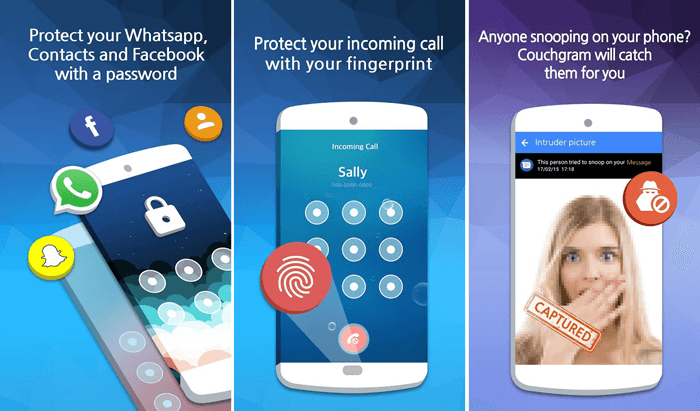 8. Secret SMS
If you are looking for a simple, minimal, and straightforward app to send secret text messages in Android then Secret SMS if for you. The text messages sent using this application are protected with a PIN password. If you want to, you can auto delete messages in your inbox. Moreover, to make things a bit more simple, the sender name is never displayed in the list.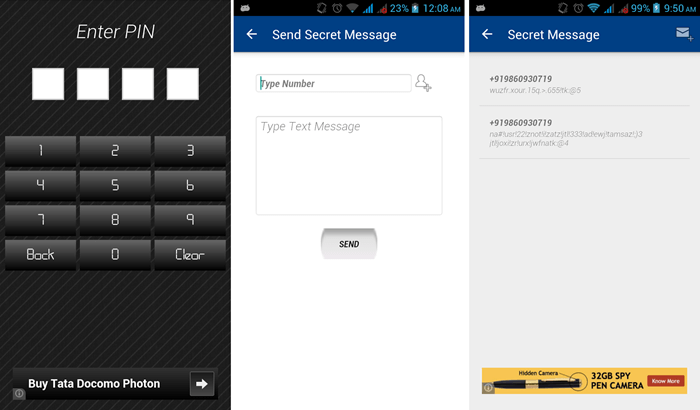 9. Hide My Text – Invisible
The name says it all, Hide My Text app hides text messages, call logs, and can block unwanted messages and calls. The good thing about this app is that it automatically hides text message of selected contacts so that no one but you can read the messages. Other features of the Hide My Text app include password protection, hide app icon in app drawer, hide call logs, chose custom colors, modify status bar icons and descriptions, etc.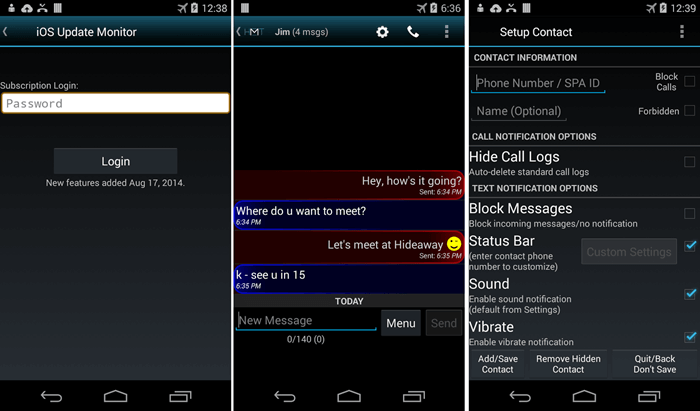 10. GO SMS Pro
GO SMS Pro is one of the popular secret texting apps for Android that has a lot of customization options to make the app look and feel as your own. Just like the other secret texting apps for Android, GO SMS Pro encrypts all your text message and keeps them private. Some of the features of the app include but not limited to the private box, custom themes, sticky messages, quick viewing and reply, support for dual SIMs, SMS blocker, delay send, etc.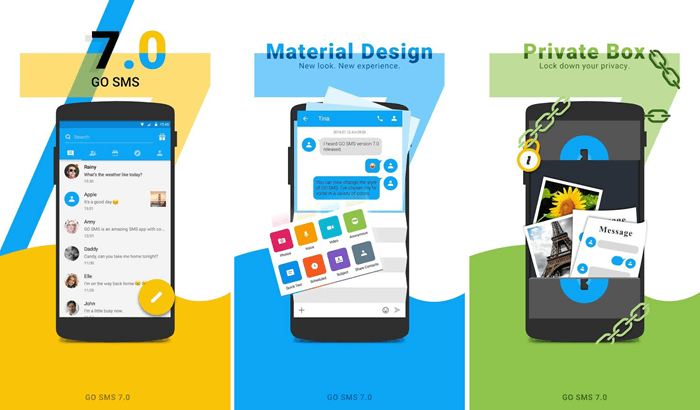 Do comment below sharing your thoughts and experiences about using the above secret texting apps for Android.