VPN services are no longer only for tech geeks to IT professionals. If you are someone who travels a lot and/or uses public WiFi hotspots like in coffee shops or airports, then you should know that accessing sensitive websites or information over these networks is not ideal. This is because the public networks usually have crappy security which makes it really easy to compromise your network connection and sniff sensitive data.
So, it is very important that you secure your network using a VPN which encrypts all your inbound and outbound network connections so that no third-party (including your ISP) can monitor or sniff your data over the network. Apart from encrypting your network connections, a good VPN can also mask your location so that you can watch your Netflix or Hulu even while you are traveling.
In case you are wondering, LiquidVPN is one such VPN service that encrypts and masks your location so that you can stay secure and access geo-restricted websites without any hiccups.
Features of LiquidVPN
Unlimited bandwidth.
Unrestricted download and upload speeds.
Zero Log with very clear TOS. Yes, LiquidVPN won't log any of your connections or data.
You can choose between multiple servers in multiple locations including USA and Europe.
LiquidVPN is available for Windows, Mac, and Android.
Liquid Lock feature creates optimum rules on your OS's firewall to protect from any type of leak or network outage.
Three different OpenVPN tunnel topologies.
LiquidVPN supports L2TP, SSTP, and OpenVPN.
No restrictions on P2P usage.
The LiquidVPN client supports Modulating and Dynamic VPN topology.
LiquidVPN offers Perfect Forward Secrecy, which simply means that the keys are renegotiated between you and the server every 30 minutes.
24×7 support via email or remote desktop connection.
Installing and Using LiquidVPN
Installing and using LiquidVPN is pretty easy. To start off, head over to the official site and download the LiquidVPN client for your system. Once downloaded, install the client like any other software.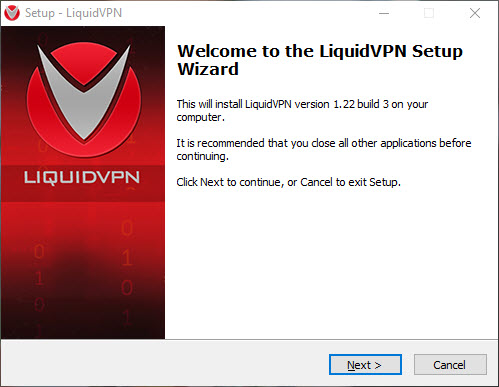 Once LiquidVPN has been installed, open it by searching for in the start menu. As you can see from the home screen, the user interface it very minimal and it even shows your current IP address.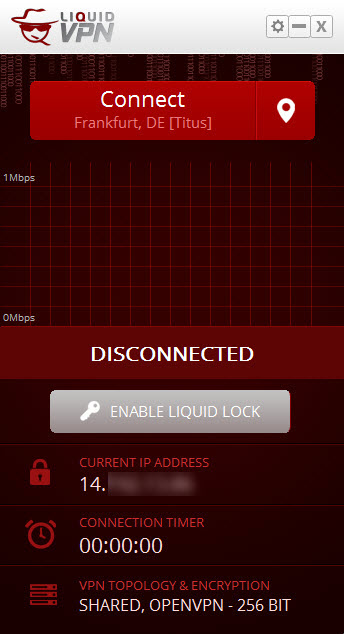 The first thing you need to do before connecting to the VPN service is to enter your login details. To do that, click on the Settings icon appearing on the top right corner and then select the option "Settings."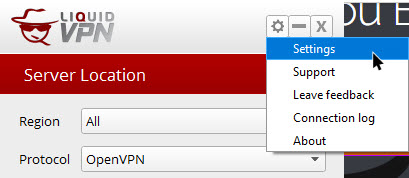 Here in the Settings window, enter your login details that you've received from LiquidVPN and click on the button "Ok" to save the changes.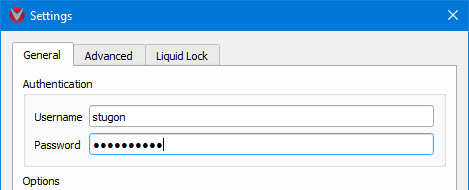 Now, in the main window, LiquidVPN automatically chooses the best possible server and configuration for you. If you want to change the server or location, click on the "Location" icon.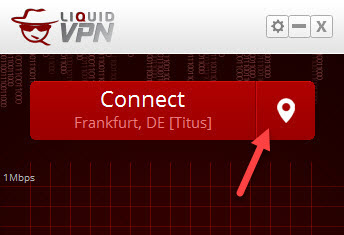 The above action will show you multiple locations and servers. Just select the location you want and then double-click on it to confirm the location. As you can see, I've selected the New Jersey server/location.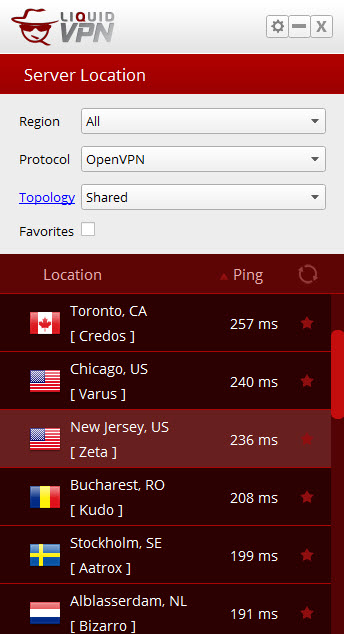 After selecting the location, click on the "Connect" button to start the VPN.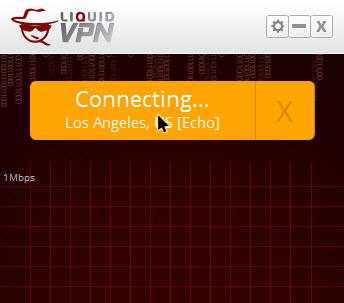 It may take a few seconds to connect to the VPN server. Once connected, the window will let you know the same with the big "Connected" text. In fact, you can also see your current masked IP in the main window itself.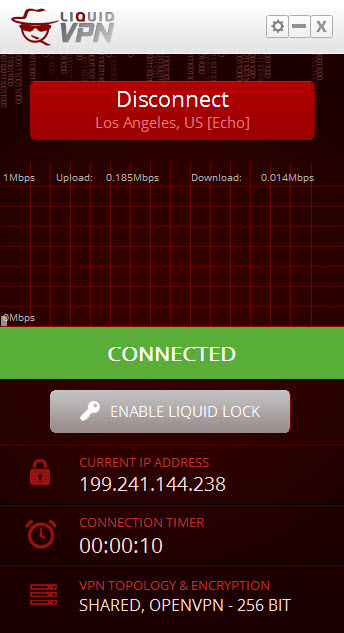 As I said before, you can actually access geo-restricted websites like Netflix.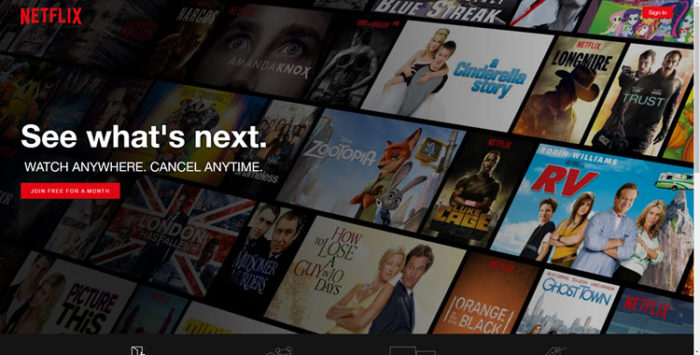 What about Hulu? Yes, you can access it too.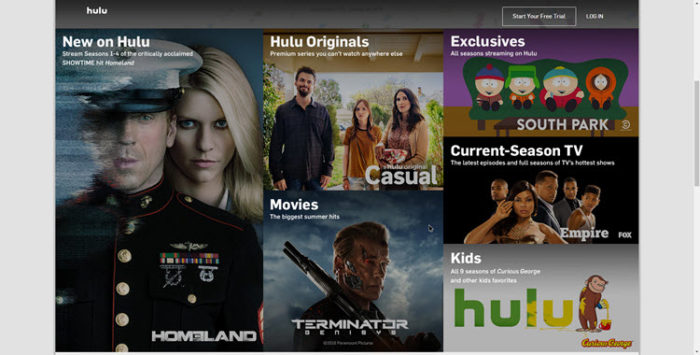 When choosing the server, you might've noticed Topology settings. Here's what those topology settings actually mean.
Shared: This setting means that you will get a shared IP address that is protected from many of the common incoming threats. Moreover, your connection is also protected by the LiquidVPNs server-side firewall. This is a great choice when you are on mobile devices.
Public: This setting allows you to have a dynamic IP address that is good for a wide range of activities like web surfing, P2P downloading, gaming, VOIP, and other general activities. However, you won't have any protection like in the Shared setting.
Modulating: The Modulating setting allows LiquidVPN to tunnel your data and the data of dozens of other users to an external load balancer. The load balancer will have a subnet of public IP addresses so that it can rapidly change the actual IP address of your device without forcing you to disconnect.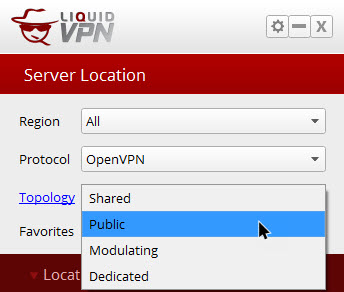 By default, LiquidVPN doesn't start with Windows. However, if you use VPN regularly, open the "Settings" window and then select both the checkboxes "Launch LiquidVPN on system startup" and "Autoconnect when LiquidVPN is started." This setting helps you to have your system connect to the VPN as soon as it starts.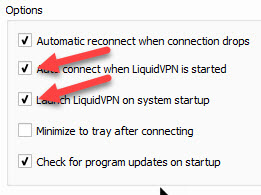 The good thing about LiquidVPN application is that you can see all the internet activity from the Connection Log. As I said before, LiquidVPN doesn't log or store any of your data. The data you see in the Connection Log is only stored on your system.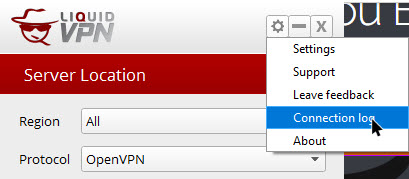 Conclusion
All in all, LiquidVPN is a pretty good service and in my testing, there are no connection drops and even the internet connection speed is pretty good. In fact, I'm able to easily stream a 720p video on YouTube while browsing other web pages. So, if you are looking for a good dedicated VPN service then do give LiquidVPN a try and see if it fits your needs.
Hope that helps and do comment below sharing your thoughts and experiences about using LiquidVPN to encrypt and mask your internet connection.
Note: This is a sponsored article. What it means is that we are paid to review this product. But the opinions in this article are not affected in any way.