Managing your android mobile from your PC is never easy, with MobileGo for android you can do it with ease and confidence as it provides all most all the latest and most useful tools to do so. To make it simple, Wondershare MobileGo for Android is an all in one application which makes managing your mobile more simple yet elegant. This is a Mobile Go review on how well does it perform what it says.
Jump To: Intro | Features | Pros | Cons | Pricing | System Requirements | Conclusion
Introduction
MobileGo for android is a pretty smart application which makes your android management simpler. MobileGo offers almost all the features you'll ever need like the ability to back up mobile contacts, messages, apps, audio, video, etc. It comes with other smart tools which can transfer your contacts or music or videos from and to your PC.
To get started, All you have to do is to download and install Wondershare's Mobile Go for Android on your PC and connect your mobile phone to it. You can connect your android phone using the regular USB cable or Wi-Fi. If you wish to connect your mobile phone using Wi-Fi you need to install free MobileGo app in your Smartphone which is available for free in Play Store.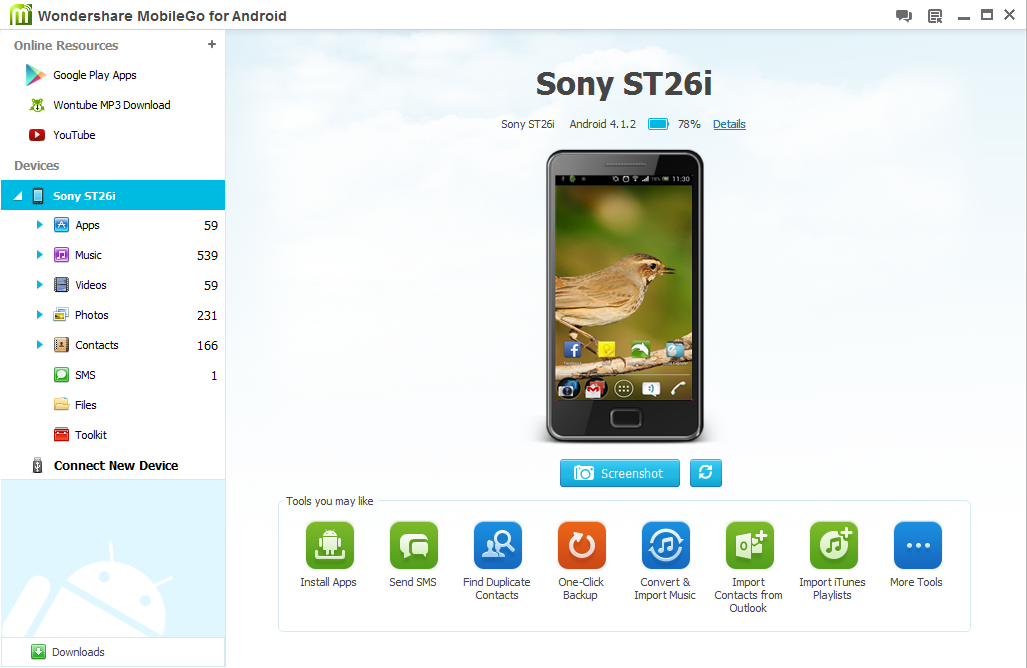 After connecting, MobileGo instantly detected my Xperia and installed all the required drives and stuff. Within a moment it displayed an overview of all the content in my mobile on its left panel and the right-bottom panel has the most used tools like back up & Contact's manager.
It really took me out that I can actually back up all the contacts, music, videos, apps, etc.., with just two clicks and with another two clicks I was ready to import iTunes and other music files.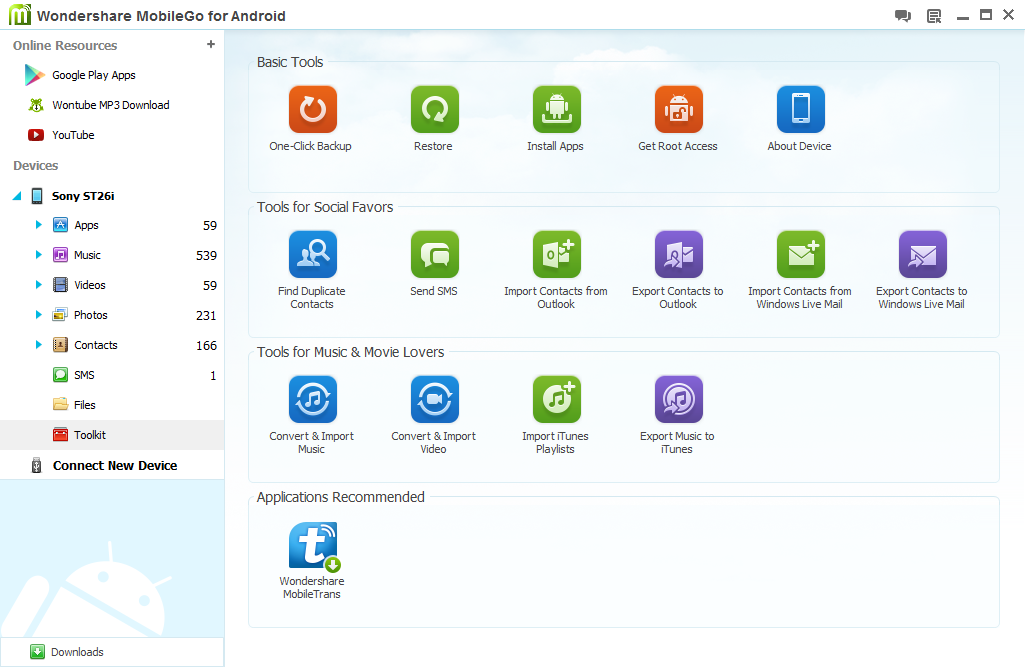 With MobileGo, transferring music and videos to your mobiles is just as breeze and it just took me 15-min to convert & transfer my video files from PC to mobile.
By clicking on 'More Tools' button at the bottom of the home screen you can bring up a hole bunch of other tools to find duplicate contents, import & export music, One-click backup & restore, etc.
Features
One-click backup and Restore to easily secure your mobile data.
Transfer multimedia files easily and MobileGo will make sure that they are compatible with your device by converting them on the fly.
Transfer and edit your contacts with no hassle.
Organize your apps seamlessly, You can install, uninstall & create a backup with just one click.
Send, Read & Manage your SMS from your desktop using MobileGo.
MobileGo can easily handle your mobile calls when connected to it.
Just one-click to download your favorite apps and videos from play store and YouTube directly to your mobile phone.
Pros
Minimal and user friendly UI.
No-nonsense features like one-click backup and restore.
Can import your iTunes from your PC to your android mobile.
Can seamlessly manage your text messages.
Free online resources to integrate your mobile.
Free high-quality customer support.
Money back guarantee if you are not satisfied.
Cons
No free version available as of now.
No support of Linux distributions.
Need to have separate license if you have a MAC.
Pricing
As we said before there is no free version of MobileGo but they offer a trial version by which you can test if it works for you or not. The premium version is currently priced at $39.95 and it gives the best bang for your buck.
System Requirements
System requirements of MobileGo are pretty low and standard, I mean you can run it seamlessly on your old PC's too.
Operating System: Windows 8/7/XP/2003/Vista
Processor: 750MHz Intel or above, or AMD CPU
Free Hard Disk Space: 200 MB or more
RAM: 256 MB or above
As per the mobile support/requirements, MobileGo supports a wide variety of models like Samsung, Nexus, Sony, Motorola, etc.. For more details you can visit this page.
Download WonderShare MobileGo For Android
Conclusion
MobileGo for android an a full-fledged application you which can manage your android mobile without any hassle. There are other products which can manage your android mobiles but they are pretty messy and may also fail from time to time. So, MobileGo for android can give you the best bang for your buck.