Google Pixel not just a powerful hardware with stock Android experience. It has a lot of features that make daily tasks faster and better. Some of these features are hidden and some of them are buried deep inside the Settings menu. So, to get most out of your Google Pixel device, here are some of the best Google Pixel tips that every Pixel user should know and use.
Google Pixel Tips
1. Get A New Wallpaper Everyday
As most of you know, the Google Pixel phone comes with a lot of pre-loaded wallpapers. You can use these beautiful wallpapers to configure the device however you want. But the thing is, manually choosing a wallpaper and setting it is too much work. Especially, when you have a whole bunch of awesome wallpapers to choose from. Google knows that and added a new feature that automatically sets a new wallpaper from the collection of your choice.
All you have to do is long-press on the home screen, select "Wallpapers," choose a collection of your choice and tap on the option "Daily Wallpaper." That's it, you will see a new wallpaper every day from the collection you've chosen earlier.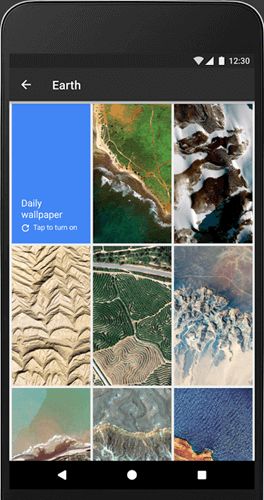 Now, if you are using an Android phone from other manufacture then you can use the official Google app called Wallpapers to get the same functionality. If you like Bing wallpapers then you can use apps like DailyPic or Daily Wallpapers that automatically download and set a new gorgeous wallpaper every single day. Trust me, Bing wallpapers are really good.
2. Pixel Lock Screen Tricks
In Android, the lock screen is much more than a simple way to prevent your device from unwanted or accidental usage. Though you can easily unlock the screen with your fingerprint, you might not need it in certain situations like when you are at home. By enabling the smart lock feature, in safe places like your home, you can automatically disable the fingerprint and unlock your device much more easily.
Enabling Smart Lock is nothing hard, open "Settings" and navigate to "Security and location > Smart Lock." Here you will see different types of smart lock options. Choose the smart lock option you like and you are good to go.
Moreover, you can also add emergency info to the lock screen. This feature is very helpful in situations like when your phone is lost or when accidents happen. The person that found your phone can make use of that emergency info to make the right call. To set up emergency info, open Settings and go to "Users and accounts > Emergency information." Here, enter your medical information and emergency contents.
3. Change the Theme with Wallpaper
Do you know that can easily shift between dark and light themes in Pixel? Well, not in a traditional sense, but you can do it. All you have to do is pick a dark wallpaper. As soon as you set a dark wallpaper, Pixel will change the notification shade, app drawer, and many other areas to a dark theme. Of course, this is not applied to the entire Android device, like for actual notifications and Settings app. But still, it is better than nothing.
To change the wallpaper, long press on the home screen, select "Wallpapers" and choose a dark wallpaper.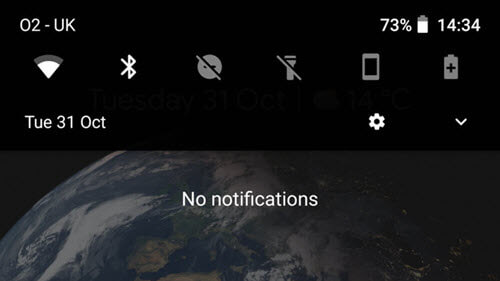 4. Make Use of Lens Blur Effect
If there is one thing that Google hammered over and over again about Pixel in their advertisements and other places is its camera. Of course, Pixel is not all talk, it goes toe to toe with Galaxy and iPhone. The camera is good by itself, it packs quite a few features that can help you in all sorts of ways. Once such feature is the Lens Blur effect. When used, the subject you are focusing will be sharp and the background is blurred. As you can tell, this is very useful for portraits.
5. Enable Pulse Notification Light
I don't know about you but I'm a huge fan of the pulse light notification whenever there is a missed call, new message, and other notification. For whatever reason, the LED notification light is disabled by default. However, it is very easy to enable LED notification light in Pixel. All you have to do is open "Settings," go to "Notifications," tap on the Gear icon and toggle the "Pulse Notification Light" option.
That's it. From this point forward, you will see a little LED light right next to your front-facing camera pulsing whenever there is a new notification.
6. Access Notifications with Fingerprint Swipe
This is one of the lesser known features of the Pixel but you can actually use gestures on the fingerprint sensor. In this case, you can access the Notification shade by simply swiping down on the fingerprint sensor. However, just like Pulse Notification Light, Swipe for Notification is disabled by default. To enable fingerprint swipe gesture, Open "Settings" and go to "Moves." Here, toggle the option "Swipe for Notification."
That's it. From now on, whenever you want to access the notification shade, all you have to do is a swipe down on the fingerprint sensor. No need to struggle to reach the top of the screen with your thumb.
7. Enable Camera Gestures
The Pixel phone is filled with a variety of gestures that lets you do some mundane tasks much more quickly and efficiently. Though most of you know that you can easily launch the camera directly from the lock screen, there is a much easier way. That is, just double press the Power button and you will have your camera ready to take the pictures.
While using the camera, you can also quickly switch between the front-facing camera and rear camera, just twist your phone. No need to tap on that small camera icon.
To enable or disable these gestures, you can go to "Settings > Moves" and toggles appropriate settings.
8. Use the Power of Google Lens
As most of you know, Google has a pretty good image recognition AI (Artificial Intelligence). When using the Google Photos app, open a photo and tap on the "Lens" icon. This will trigger Google Lens and it tries to recognize the photo, show available suggestions, recognize text like email addresses, phone numbers, etc., detect artwork and media, related images, related links, related searches, etc.
9. Take Control of Notifications
Notifications give you the information you need without actually opening the app. However, over the time, it is very easy to have tons of notifications distracting you from your work. But thanks to Android Nouget, it is very easy to control all those notifications. To disable or control the notifications, swipe down to bring the notification shade and slide over the notification. This gesture will show a Gear icon, tap on it and select appropriate option to take control of the notifications.
10. Save Mobile Data
No matter where you live, mobile data is VERY expensive, at least expensive. By enabling the WiFi Assistant feature, you can save mobile data whenever and where ever possible by connecting to public WiFi networks. Now, when connecting to a public WiFi network, your Pixel device will automatically encrypt all incoming and outgoing data so that you don't have to worry about security while using the public WiFi network.
Unless you are using Project Fi as your carrier, WiFi Assistant feature is disabled by default. To enable WiFi Assistant, open Settings, go to "Networking" and toggle the option "WiFi Assistant."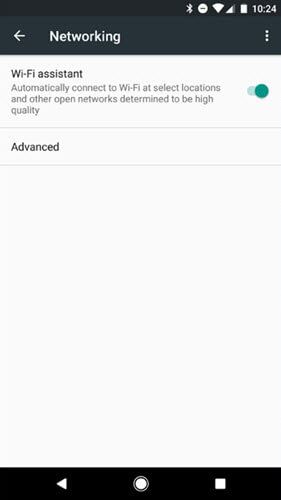 11. Get the Internet Speed You Deserve
While it is good to connect to a WiFi network to save mobile data, it can be painful and a kind of punishment to use a WiFi connection when it is slow as a snail. In those situations, you can configure your Pixel device to automatically switch to the mobile data until there is a stable and speedy WiFi network.
To enable automatic switching between WiFi and mobile data, open "Settings," go to "Network and Internet > WiFi Preferences" and tap on the option "Advanced." Now, toggle the "Switch to mobile data automatically" option and you are good to go.
12. Enable Night Light Mode – Get Better Sleep
Though you might not know, the bright-light emitting from your Pixel device or any other device with a bright screen for that matter is making you lose your sleep at night. This is because, the light emitting from the screen is in blue light frequencies and it tricks your brain into thinking that it is still day-time, thus your lack of sleep. To deal with this problem, Google introduced the Night Light feature which gives the screen a yellow or orange tint at night times. This tint more or less imitates the natural light you see at sunset and lets you sleep better.
To enable night mode on Pixel, open "Settings," go to "Display > Night Light." Here, tap on the option "Turn on automatically" and then select "Sunset to Sunrise." This option will make use of your location data to automatically detect sunset and sunrise timings. If you want to, you can also use a custom schedule by selecting the "Custom Schedule" option.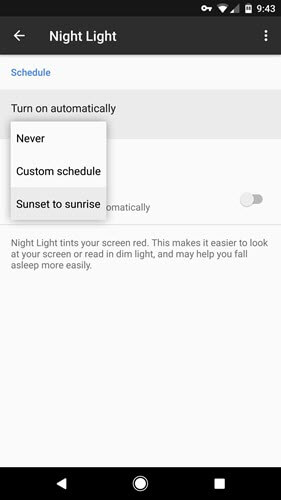 Wrapping Up
That's it for now. If you think I missed any of your favorite Google Pixel tips then do share with me in the comments form below.