There are a lot of note taking and organizing apps out on the internet. Some offer ease of use while some offer innovative features. Some are paid while some are free of cost. After using many such apps, I have zeroed in on Google keep as one of the best note taking apps with basic yet useful functionality.
Google Keep is especially useful for simple tasks like listing to do tasks, to set reminders, etc. Google Keep is free, absolutely easy to use, and offers plenty of features to help organize your notes efficiently and quickly. Though using Google Keep is pretty easy, here are few Google Keep tips to better organize your notes.
Note: I'm using the Google Keep android app while writing these tips. If you are using the web version of Google Keep then the placement of different options discussed below may differ.
1. Google Keep Tips – Set Time and Place Reminders
Setting a reminder using time or an event is what many of the current apps offer. Google Keep goes one step further and offers location-based reminders. While setting your reminder, click on Place instead of Time. Then select the location on the map or type in the address and you are done. Next time when you are passing by that location, Google Keep will remind you of your note(s).
2. Google Keep Tips – Share Notes with Other Users
Sharing your notes is a breeze in Google Keep. Tap the action tab (the labeling buttons with three dots at bottom right corner of the app), then click "Collaborator," add the contact you want to share the note with, and click Save. Your sharing partner can now see and edit your shared note.
3. Google Keep Tips – Color Labeling
Who doesn't love a colorful notebook? Google Keep allows you to choose from a wide range of different colors for each note. These colors help you recognize all your notes instantly. Also, you can label your notes, just like in Gmail.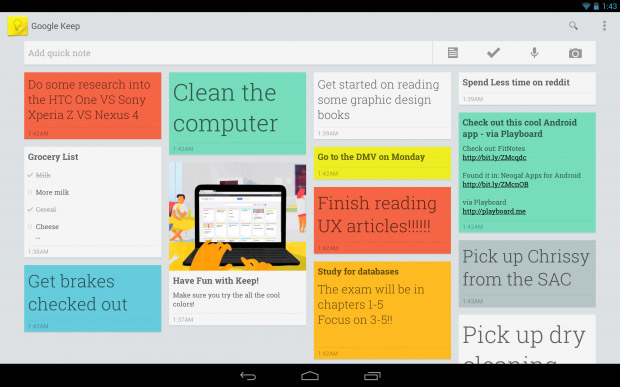 4. Google Keep Tips – Add Drawings to the Notes
Are you fond of doodling? Then Google Keep is the best app you can take your notes on. Keep allows you to draw on a new or an existing note easily. Also, there are three different colors and strokes you can choose from. To add drawing on a note, click on the plus button at the bottom-left corner, then click on "Drawing," and you can start creating those awesome notes.
5. Google Keep Tips – Create Voice Typed Notes
How can Google not allow voice typing? To create a note with your own voice, just tap the plus button, and click on Recording to start recording your notes. A pretty helpful feature if you are traveling or don't have the time to type the notes. Now, imagine the note telling you to do your tasks.
6. Google Keep Tips – Export Notes to Google Docs
When a note gets big enough, you can easily export it to Google Docs, and continue your work there. Just tap the action button appearing on the bottom right corner, click on Send, and then click on "Copy to Google Docs" option.
7. Google Keep Tips – Turn a note into a list
If you are halfway through your note, and suddenly realize you need a list, not a note, no worries, Google Keep has you covered there too. Just tap the Plus button, and click on Checkboxes. The note is now a list.
You can see now why Google Keep is the best to create your reminders and notes if your usage is pretty basic. It offers a plethora of features and does not cost a dime. Please let me know in the comments below if I have missed any of your favorite Google Keep tips.