It may not be too often but sometimes you may want to find out the system uptime of your Mac. There may be several reasons for this like to troubleshoot an issue, to see how long you have been using your Mac without a reboot, to brag with your friends, etc. In case you are wondering, system uptime is nothing but the amount of time your system is running without being restarted. So, no matter what the reason is, here is how you can find system uptime details on your Mac OS X.
Find System Uptime on Mac OS X
There are two ways to find system uptime on Mac. I will show you both the ways, use the one that is comfortable to you.
Using a Simple Terminal Command
1. Using the terminal to find system uptime is that fastest and easy way. To start off, search for "Terminal" either using the Spotlight or Launchpad and then open it.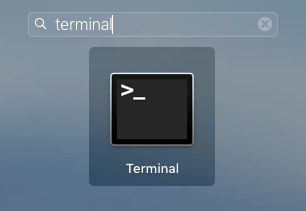 2. Once the terminal has been opened, execute the below command and you will have your system uptime details.
uptime

3. In case you are thinking, here is the breakdown of what the terminal is telling you.
Current time – uptime in days, hours and minutes.
The number of accounts used during the uptime.
Load average in last 1, 5 and 15 minutes.
Using System Report (GUI)
1. If you don't like using the terminal to the get the system uptime report then you can use the System Report application on your Mac. To do that, click on the "Apple" icon appearing on the top-left corner and then select the option "About this Mac."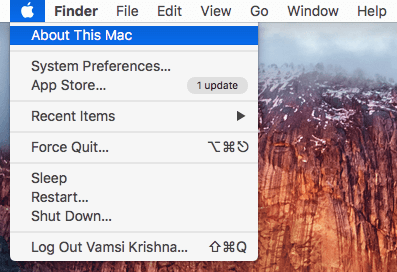 2. The above action will open the System Overview window. Here, click on the button "System Report."

3. Once the System Report window has been opened, scroll down and choose the option "Software" on the left side of the screen. As soon as you've done that, your system uptime will be displayed in the right pane next to "Time Since Boot."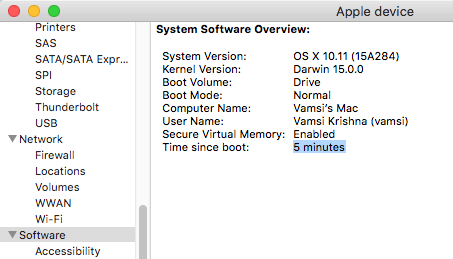 That's all there is to do and it is that simple to get system uptime details on your Mac OS X.
Hopefully that helps and do comment below sharing your thoughts and experiences about using the above methods to find system uptime report on Mac OS X.