VPN services like CyberGhost help us a lot by encrypting and securing our internet connecting to the outside world. The best part of VPN is that you can use them to bypass regional restricts placed by some sites like HULU, Netflix, etc.
Said that the fact remains intact, Even though VPN services are here for a while there are not many people who know the awesomeness of VPN services like CyberGhost. Said that CyberGhost is one of the best VPN services out there with promising features and user-friendliness. So, without further ado let's get on with CyberGhost premium plus VPN giveaway.
Why Use CyberGhost
As I said in my previous article, CyberGhost is one of my favorite VPN service which delivers what it says. I mean, CyberGhost can provide you with the best of both worlds(security & anonymity). CyberGhost VPN service can actively hide your online activity from prying eyes and can also grant you access to blocked & restricted sites. The best thing about CyberGhost is that it does offer a free plan with some interesting features like unlimited bandwidth, ability to choose server location, etc.., which makes it one of the best VPN service with all the whistles and bells you'll ever need.
Installation and User Interface
As said before, CyberGhost offers a free plan which you can download and install like any other software. After installing, launch CyberGhost and here as a free user, you can select the simulated country from the left-bottom tab. After selecting the country you need, just click on the big yellow power button to start using CyberGhost. It's that easy to use CyberGhost, I mean, there is no technical knowledge required.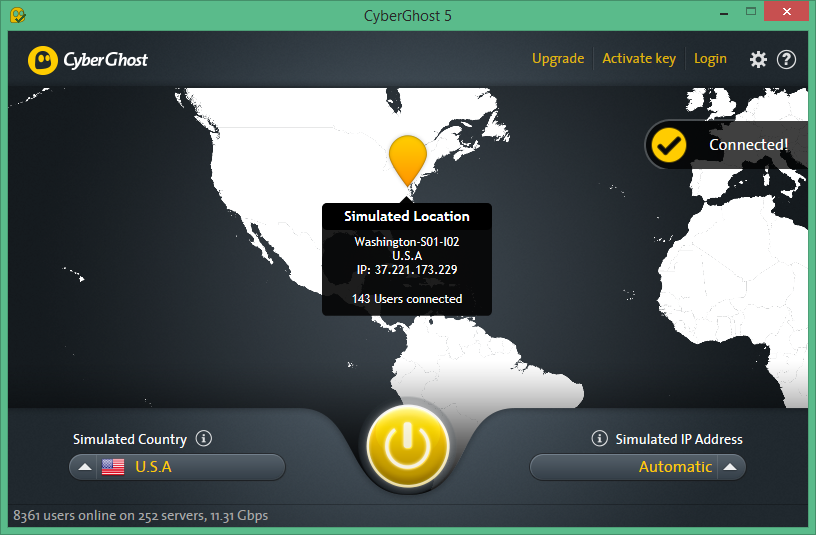 As you see, CyberGhost's user interface is pretty minimal & awesome. The user interface of CyberGhost does not have any clutter and all you have to do some point and click to enjoy the restricted sites while spoofing your original IP address. If you are a premium member of CyberGhost, you'll have some extra privileges like Unlimited speed, P2P downloading, No wait times, ability to select simulated IP addresses, etc. So what are you waiting for, just download and start using CyberGhost.
Features
Unlimited bandwidth.
Unlimited traffic.
Can choose server locations.
Can choose your simulated IP address.
20 VPN servers over 23 countries.
Tight encryption with ASE-256bit.
Supports OpenVPN, L2TP/IPsec, PPTP protocols via windows client.
CyberGhost premium plus VPN supports up to 5 devices.
CyberGhost Premium Plus Giveaway
First off, we are giving away 5 CyberGhost premium plus license keys worth $600. To win the giveaway, just follow the steps below and don't forget to comment as it is mandatory to win the license. Please wait while the giveaway is loading.
Comment with your valid email address.
After doing all that, just don't forget to comment below with your valid email address [which you used to subscribe to the newsletter] telling us why you need a powerful VPN service like CyberGhost.
This giveaway will be closed on 10th Apr 2014 12:30 IST and the winners are select randomly from the eligible participants.
Note: When we say eligible participants, we are talking about the participants who've done all the things that are stated above.
Update On Winners
Thanks for the participation guys, the giveaway has been ended and as promised here are the winners of CyberGhost 1 Year Premium Plus License Keys Worth $600.
Chad
Edemilson
Craig Bakers
Pankaj
Yukselen Degerler
The winners will receive their genuine CyberGhost Premium Plus license key within 48 hours and even if you are not a winner, do try CyberGhost as they offer a decent free plan with all the whistles and bells you need.
---
Interested in a sponsored giveaway, We'd love to hear from you. Just contact us & we'll get back to you.