Send big emojis in WhatsApp: recently WhatsApp received a notable update that has a lot of changes and new features. These new features are mainly aimed to improve the user experience.
Some of those new features include but not limited to big emojis, ability delete multiple private chats, etc.
Ever since WhatsApp introduced big emojis, most of us are trying to make the emojis 3X bigger but to no avail. Previously, only the heart emojis are make made bigger but with this new update, you can post any emoji 3x bigger.
So, if you ever want to, here's how to send big emojis in WhatsApp.
Send Big Emojis in WhatsApp
It is really easy to send big emojis in WhatApp.
All you have to do is type a single emoji and send it. You should not add any text or other emojis. Just a single emoji.
In fact, this method is similar to the method where you can only send heart emojis 3X bigger.
As soon as you send the emoji, it will become 3x bigger.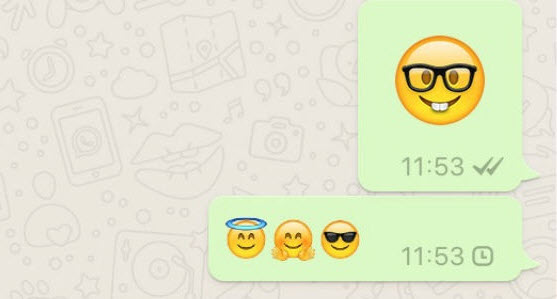 If you add anything to the single emoji, like another emoji or text then it will appear normal.
You can see the above image for reference. The single emoji is 3X bigger in WhatsApp and the emojis in other message are normal.
Hope that helps and do comment below sharing your thoughts about the new bigger emojis in WhatsApp.
Also, do you like to send big emojis in WhatsApp?