Best manga website – Are you are a fan of manga and would like to read your favorite manga online? Here are some of the best manga website to read manga online. The best thing is, using the below manga websites, you can read manga online for free. This is pretty helpful if you are not able to pay for manga or if the manga isn't available in your region. Without further ado, let's get to know some of the best manga website to read manga online.
I strongly urge you to buy your favorite manga if it is available in your region or subscribe to the official online manga magazines. This helps the manga artists and creators in general and keeps the industry alive and healthy.
Best Manga Website to Read Manga Online
Note: to access the website, simply copy the URL from the sub-heading, paste it in your browser's address bar and press the enter button.
1. MangaStream.com
MangaStream is one of the most popular manga website to read manga online. The good thing is, the guys at MagaStream actually translate some of the popular manga like One Piece, One-Punch Man, Fairy Tail, Black Butler, The Seven Deadly Sins, etc. However, unlike other websites, MangaStream only hosts a small number of chapters of the manga they are currently translating. This is done in order to respect and provide support for publishers and creator.
So, if you want to read latest manga release as soon as it is released (sometimes, it is published even before it is released in Japan) then do give MangaStream a try.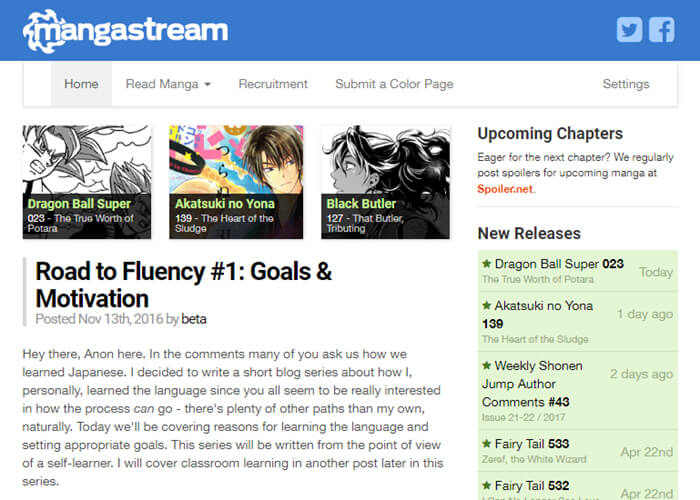 2. KissManga.com
KissManga is another popular and best manga website that hosts a wide range of manga. No matter what manga you want to read, be it old, new, or rare, you can find it in KissManga's huge collection. Besides from regular manga, you can also read Manhua (Chinese comics) and Manhwa (Korean comics). The best thing about KissManga is that it loads all the images in a chapter in one single page.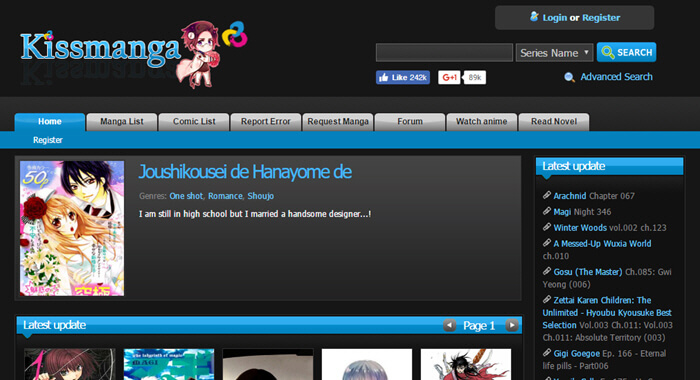 3. Bato.to
Bato.to is yet another popular manga website to read manga online. Though Bato.to is free, you need to signup for a free account to read the manga. The good thing about Bato.to is it has a huge collection of manga and a huge community to talk and share things.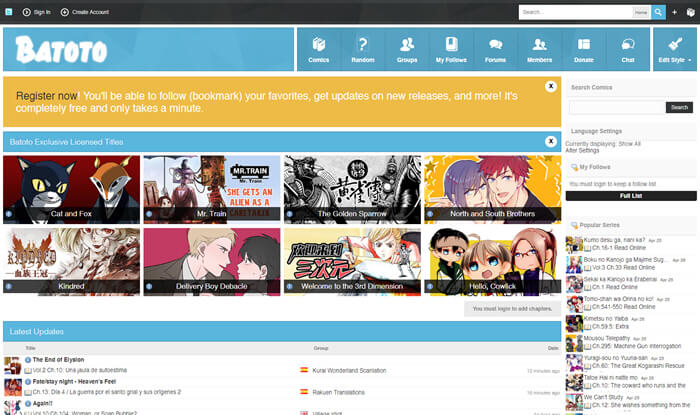 4. MangaReader.net
Just like KissManga, MangaReader has a huge collection of manga and updates them daily as soon as they are available. The recently updated manga will be displayed front and center. You can also find a list of popular mangas that are being currently read by people. Using the Advanced Search features, you can easily search and find any manga you want.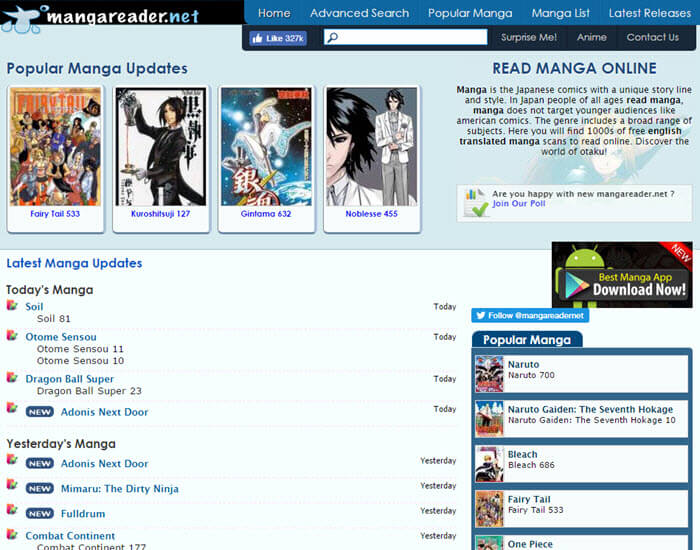 5. MangaFreak.com
MangaFreak sports a simple and dark theme that is pleasing to your eyes. Just like MangaReader, it displays the recently updated manga front and center just below the site logo. All the manga are neatly arranged in alphabetical order and you can also use the advanced search to find your favorite manga.
6. MangaFox.com
MangaFox is yet another best manga website to read manga online. The good thing is you can easily access all the latest and recently updated manga right from the homepage. Moreover, the advanced search feature in MangaFox is pretty extensive and you can add many filters to narrow your search and find the manga you need. Just like KissManga, MangaFox has a big community to chat and discuss the manga you read.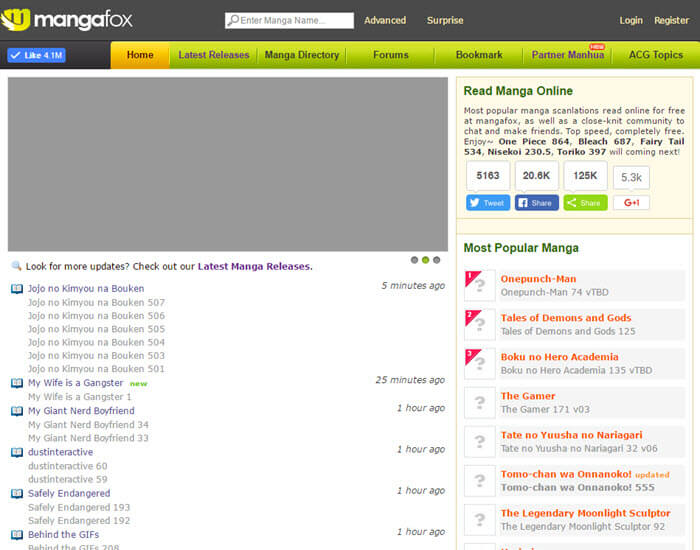 7. OneManga.com
OneManga is a well-organized manga website with lots of manga to read. In fact, the manga website resembles very much of MangaReader.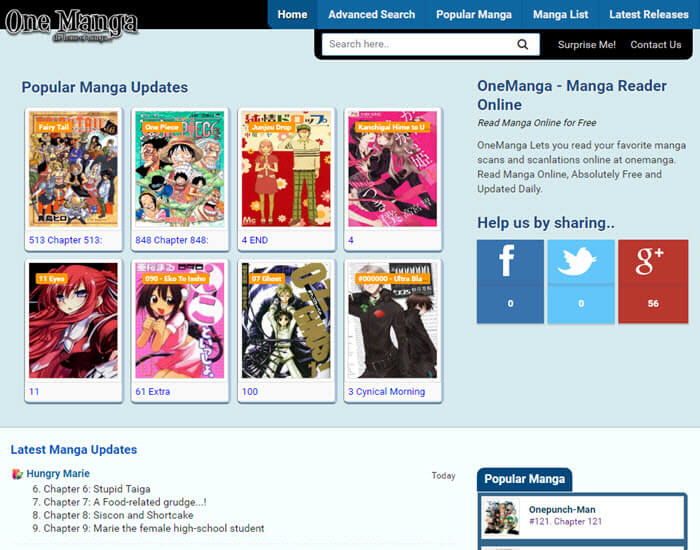 8. Mangable.com
Mangable is a relatively new manga website but has a huge collection of 4,859 popular manga scans and scanlations, available for you to read online, completely free and are updated throughout the day as and when they are available. If you want to, you can also sign up for a free account to keep track of your manga and communicate with other manga readers.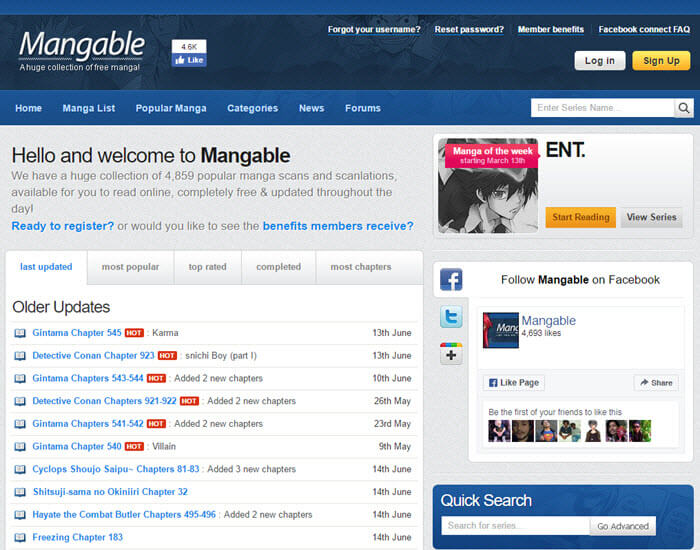 9. MangaPark.me
MangaPark displays all the popular manga at the top and all the latest manga releases in a neat grid pattern. Using a free user account, you can bookmark your favorite manga and keep track of theme. Using the history button, you can see all the manga chapters you read previously.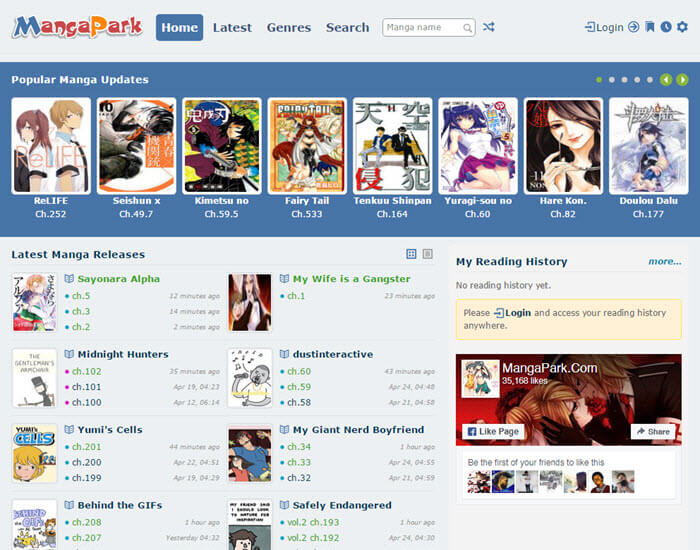 10. MangaPanda.com
Just like MangaStream, MangaPanda also translates some of the famous manga like One Piece. Being a popular manga website and having a big user community, it has all the useful features like advanced search, ability to find manga by genres, latest manga releases, etc.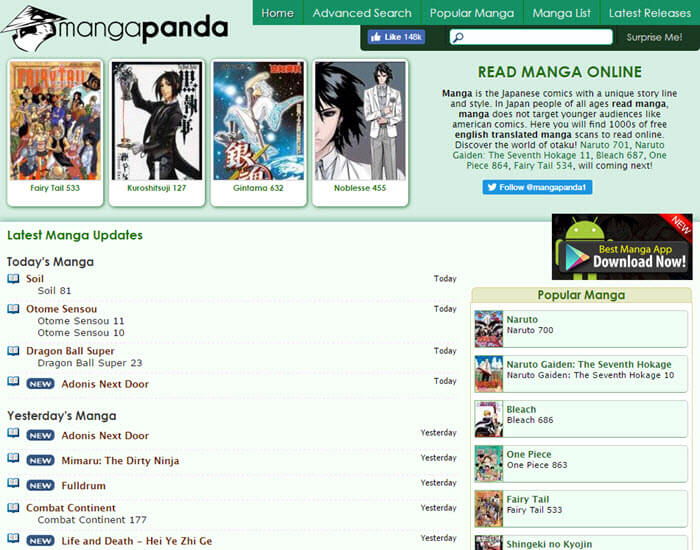 11. MangaHere.co
MangaHere has a huge catalog of manga and it updates all the manga regularly. Moreover, along with regular manga updates, MangaHere gives you latest news, spoilers, and theories of your favorite manga and mangaka.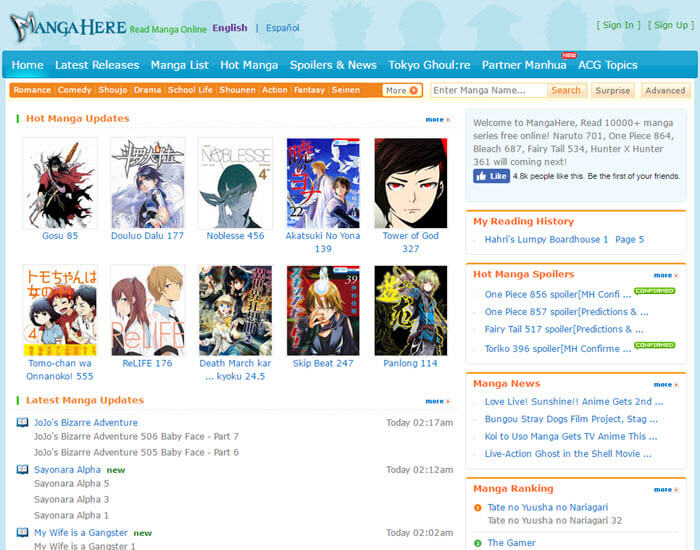 12. MangaFreak.net
Don't confuse MangaFreak.net with MangaFreak.com they are both different. MangaFreak.net is a relatively new manga website that has all the popular manga. One the homepage, you will see all the manga laid out in a grid pattern depending on when they are updated. MangaFreak.net updates all their manga regularly as soon as they are released.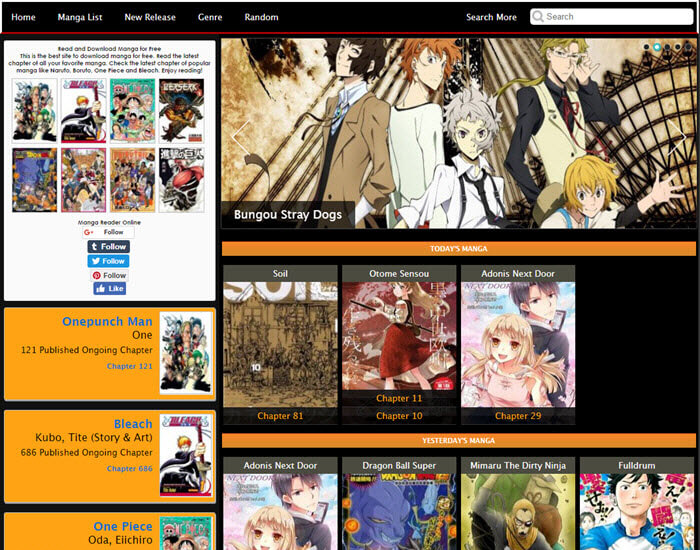 13. MangaKakalot.com
MangaKakalot is yet another manga website to read the manga you want. This manga website sports a simple and minimal look with a grid pattern showing all the new and latest manga on the home page. In case you are wondering, the word "Kakalot" in the website name may be a pun on Goku's real name (Kakarot).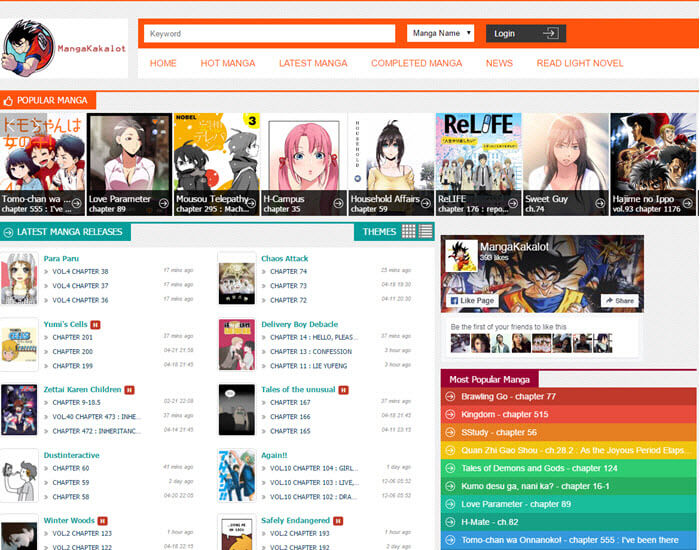 14. ZingBox.me
Though the name looks a bit funky, ZingBox has all the manga you will ever need. On the homepage, all the latest and newly updated manga will appear according to their genres.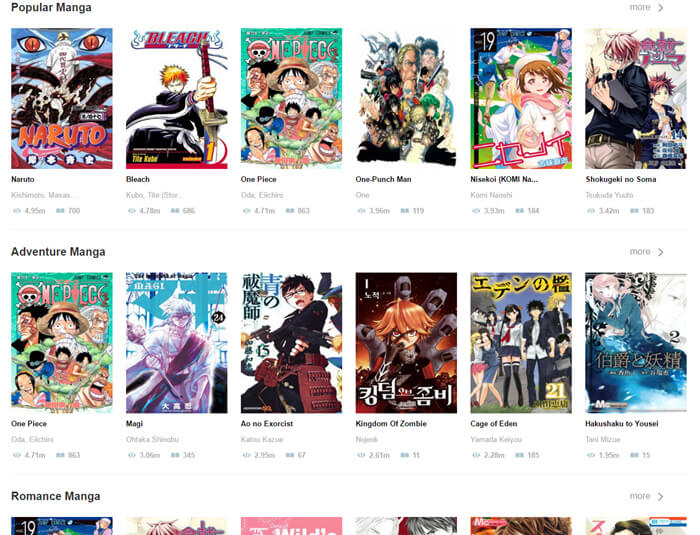 15. Manganel.com
Manganel looks pretty similar to MangaKakalot. Obviously, Manganel updates the manga regularly. So, there you have it. Yet another manga website to read manga.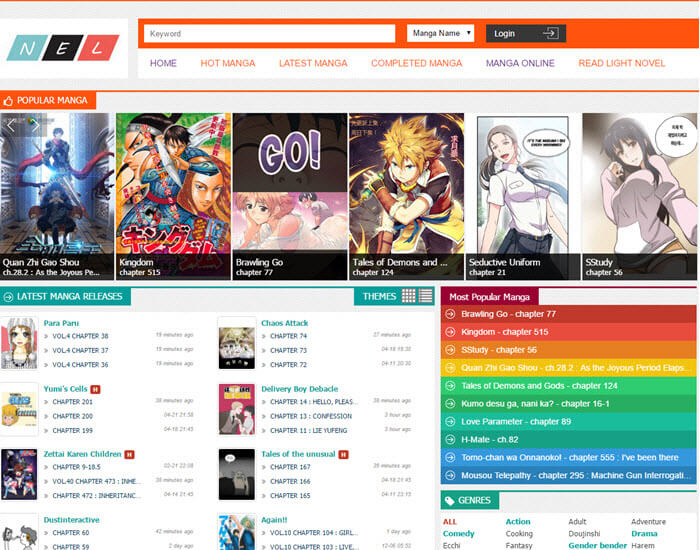 16. EGscans.com
Easy Going Scans is a group dedicated to awesome mangas and webtoons. They translate some of the popular manga like Bungou Stray Dogs, Feng Shen Ji, etc. As such, you will only find the manga that is translated by the EGscans team.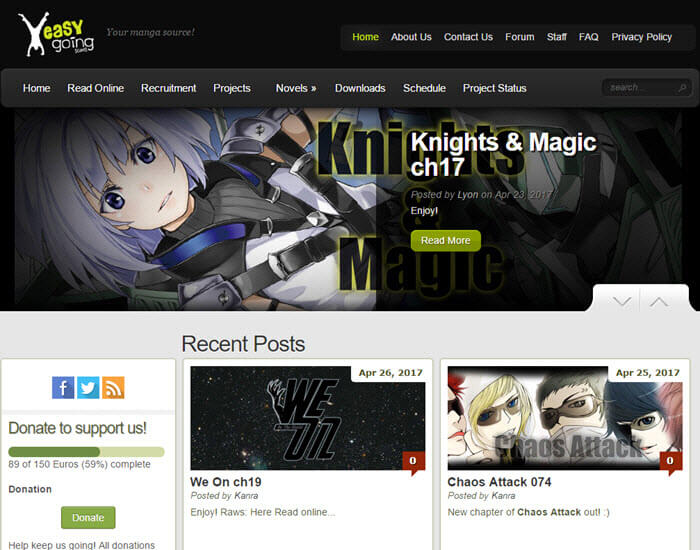 Best Manga Website – Conclusion
There you go. These are some of the best manga website you should know and try to read manga online. If you think I missed any of your favorite manga website then do comment below sharing them.
Advertisement:
Work from anywhere on any device as you travel with a cloud desktop by CloudDesktopOnline.com- one of the best virtual desktop hosting provider. Make your virtual machine more resilient with the latest Hyper–V virtual dedicated servers from Apps4Rent.