Downloading files from the internet is never easy unless Internet Download Manger, traditionally we tend to download files from the internet using our native browser download manager. But the fact remains, they are not so advanced and doesn't have much features which can ensure you the best download experience possible.
Said that the native download managers may also frustrate us while download large files because, the native browser download manager can't resume a broken download link. As said before, there comes the role of the best download manager 'Internet Download Manager (IDM)'. So without further ado, let's see how IDM works and get on with Internet Download Manager giveaway worth $250.
Why Use Internet Download Manager?
As I said before, Internet download manager is that best as it delivers what it says. The power of IDM comes from its features and the power to capture and download almost anything. Unlike other download managers, IDM doesn't have any unnecessary whistle or bells but comes with all the required and essential features that you'll ever need as an internet user.
While using IDM, you don't have to worry about the download speeds or broken links because IDM can take care of these hurdles very easily and can multiply your download speeds for faster downloading experience. Apart from all this, the best thing about IMD is that it does have a free 30-day trial version using which you can feel the power of absolute downloading.
Installation & User Interface
As I said before, IDM has a free 30-day trial version using which you can download and install it like any other software. As soon as the IDM has installed, it will find and integrate will all your browsers so that every download link you click will be captured and downloaded by IDM. Even though it is a trial version, IDM won't restrict you from enjoying all the features.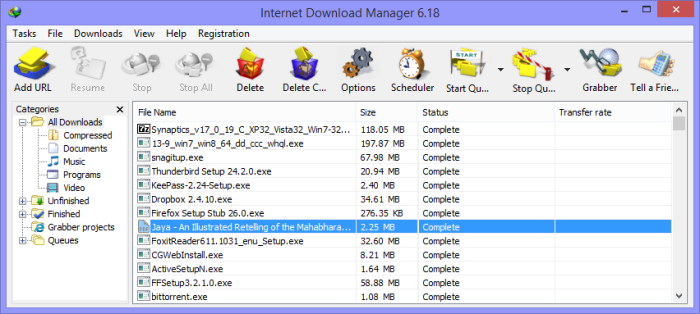 As you can see from the above image, IDM has a pretty minimal user interface but it does pack a punch. I mean, with IDM you can multiply your download speeds, resume broken downloads, schedule your downloads, etc. Apart from all this, IDM can grab almost all the video and audio files that are playing in your web browser i.e, you can use IDM to download your favorite youtube videos. Below is the list of features provided by internet download manager.
Features
Support for all major browsers.
seamlessly resume broken download links.
Grab video and audio files playing in your browser.
Support for automatic antivirus checking.
IDM has integrated support for website spider & Grabber.
With IDM you can schedule your downloads.
Drag and Drop support.
and lots more, click here to know more.
Giveaway Rules
First off, we are giving away 10 Internet Download Manager license keys worth $250. To win the giveaway, just follow the steps below and don't forget to comment as it is mandatory to win the license.
Comment with your valid email address.
After doing all that, just don't forget to comment below with your valid email address [which you used to subscribe to the newsletter] telling us why you need a powerful download manager like IDM.
This giveaway will be closed on 1st May, 2014 12:30 IST and the winners are selected randomly from the eligible participants.
Note 1: If you have already subscribed to our newsletter, then just do the remaining things and comment below.
Note 2: When we say eligible participants, we are talking about the participants who've done all the things that are stated above.
Update On Winners
Thanks for the participation guys, the giveaway has been ended and as promised, here are the winners of Internet Download Manager License Keys Worth $250.
Varun
Sonia Kumar
Hania
Beta
Mohammod
Aftab
Ronny Green
Neo
Asriel Rusdyawan
Jay
The winners will receive their genuine IDM license keys within 48 hours and even if you are not a winner, do try IDM as they offer 30-day trial version with all the whistles and bells you need.
---
Interested in a sponsored giveaway, We'd love to hear from you. Just contact us & we'll get back to you.