Yes, you can still download Windows 10 for free. Microsoft has been consistently marketing its latest version, Windows 10, to its customers. It had even offered to let the Windows 7 and 8.1 users to upgrade their operating system to Windows 10 for free.
Now, technically, the free upgrade offer from Microsoft has ended on 29th of July 2016. But Microsoft being Microsoft, has left a loophole for those who are still interested in upgrading their machines to Windows 10. In this article, I'm going to tell you exactly how to download Windows 10 for free using Microsoft accessibility site even after the free upgrade has been ended.
Note:
This offer works only for those who already have genuine Windows 7 or Windows 8.1 running on their machines. If you are using Windows 8, you will need to first upgrade (for free) to Windows 8.1 and then avail this offer.
This is just a temporary thing, so hurry up before Microsoft closes the loophole.
Get Windows 10 for Free
1. To start off, open your favorite browser and visit Microsoft's hidden accessibility website.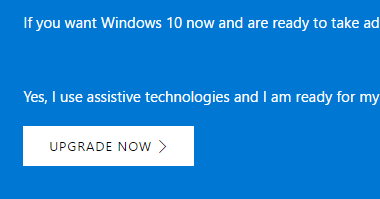 2. Once you are on the webpage, click on the "Upgrade Now" button.
3. As soon as you click on the button, you will automatically download the Windows 10 upgrade assistance program.
4. Just complete the download and run the downloaded program (.exe file).
5. Once the application has been opened, agree to the license agreement and then click through the wizard till the end.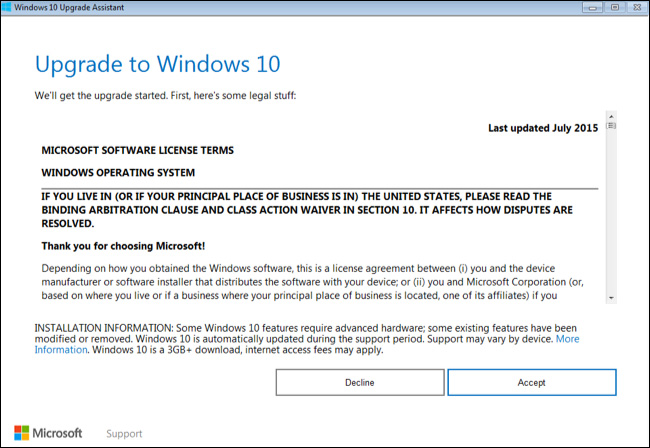 6. The software will first check for the hardware compatibility of your machine.
7. If found suitable hardware, the software will then download the Windows 10 upgrade automatically and installs it on your machine.
There, you have done it. Once the upgrade has been installed, your machine will now be running on Windows 10. Also, you will now be in possession of a digital license that lets you reinstall Windows 10 at any future point in time. Since you are are using a digital license, you don't have to use any product key when you reinstall. Windows 10 will be automatically activated when you connect to the internet.
That being said, if you've upgraded your machine to Windows 10 and you want to rollback to 8.1 or 7 later, you can do it at any time within the first 30 days. Then you can again upgrade to Windows 10 at any time using your digital license copy.
Hope you found this guide useful. Do Comment below sharing your thoughts and experiences about using the above method to download Windows 10 for free.