Action Launcher is one of the most popular launchers for Android devices with many interesting features. Along with the regular features, the new Action Launcher update added Android O features and integrated Google Now into the launcher.
The catch is that you have to download Google Now plugin apk file separately from APKMirror or from Action Launcher official server (direct download link). The reason for this round about way to add Google Now integration is because Google doesn't provide any official API for third party developers. So, almost all developers use some sort of round about way or other creative means to integrate Google Now in their launchers.
As soon as you install the Google Now plugin for Action Launcher, you can launch Google Now, by swiping from the left side on the home screen. Of course, just like the regular Google Now launcher, you can see all the latest feed on the Google Now screen.
Action Launcher Updates Adds Android O Features
Apart from integrating Google Now into the Action launcher, here are some of the Android O inspired features you get the latest version.
NEW: Google Now integration for all! Requires installation of the Action Launcher Google Plugin application.
NEW: Full Notification Dots support!
NEW: Long-pressing a shortcut will display a preview of app's notifications and allow notifications to be dismissed ala Android O. Available when using either Notification Dots or Unread Count.
NEW: Unread Count support extended to all apps that have a current notification.
NEW: Android O style App Shortcuts panel.
NEW: Allow granular control as to which apps display Notification Dots/Unread Count.
NEW: Android O style widget picker, which displays all relevant widgets for a given shortcut.
NEW: Directly engage Action Launcher's Quickedit panel via a shortcut's long-press pop-up UI.
NEW: Dedicated "Icons & App Shortcuts" settings page, which is home to all icon related settings.
NEW: When Google Pill widget is on the left screen edge and Google Now integration is enabled, display a tinted edge background as per Pixel Launcher.
NEW: Option to adjust the scale of icon indicators.
NEW: Revamped interface for selecting the apps that are hidden from app drawers.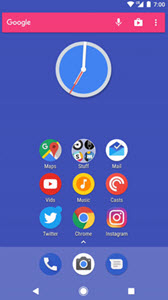 Besides from the Android O features, this update also brings UI refinements to meet Android O guidelines. That being said, one of the best features introduced in this update is the support for Notification dots that work very similar to Android O. When you receive a notification, just long press on the icon and you can see all your recent notifications. If you want to, you can dismiss that notification directly from the pop-up. You no longer have to launch the app to do simple tasks.
The update is already live you can download it directly from the Play Store. However, do remember that you need to install the Google Now plugin APK file in-order to integrate Google Now into the Action Launcher (APK download links are provided in the second paragraph).